40th Anniversary Of ABBA – The Album
40th Anniversary Of ABBA – The Album Celebrated With Superb Reissues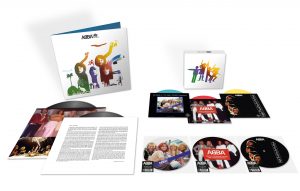 First released in Scandinavia in December 1977, ABBA – The Album took the world by storm, hitting number one in countries such as Sweden, the UK and the Netherlands. It also entered the Top 15 in the US, becoming their highest-charting album in that country.
Naturally, this being ABBA, the album also featured a number of major hit singles: 'The Name Of The Game', 'Take A Chance On Me' and 'Eagle'. Both these hits and the album itself showed how ABBA tried to develop and challenge themselves, taking significant steps forward in terms of musical complexity, yet remaining catchy and compelling.
In celebration of the album's original release four decades ago, Polar Music (via Universal Music Group) are releasing several tantalising anniversary reissues. They are as follows:
• A limited edition 7" box set featuring the three singles from the album on coloured vinyl, featuring the UK number one 'The Name Of The Game'/ 'I Wonder (Departure)', the international Top Three smash 'Take A Chance On Me'/ I'm A Marionette' and the European Top Ten hit 'Eagle'/'Thank You For The Music'
• The three 7" singles released separately as limited-edition picture discs.
• A half-speed mastered, 45rpm cut double-LP version of the original album. This rare and specialised technique transforms difficult to cut high-end frequencies into relatively easy to cut mid-range frequencies. The result is a cut with excellent high frequency response and very solid and stable stereo images. In short, half-speed mastering produced a master of the highest quality that enables the pressing plant to produce a superlative record.
This reissue of ABBA – The Album will also feature new liner notes by noted ABBA historian Carl Magnus Palm, detailing the story behind the album.
All products will be released November 3, 2017.
Pre-order: www.abbathemuseum.com/shop