In focus: ABBA in Germany
A decade after its world première, the ABBA musical Mamma Mia! continues to be a global success. The show opened in Hamburg, Germany in November 2002, which gave us reason to take a look at ABBA's career in Germany over the years.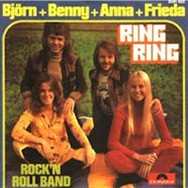 Similar musical tastes
When the musical Mamma Mia!, based on ABBA songs, received its German première in Hamburg on November 3, 2002, one could have been forgiven for thinking that it was the late Seventies or early Eighties all over again. Television stations were broadcasting marathons of vintage ABBA performances from their archives, while Björn Ulvaeus conducted plenty of interviews and Benny Andersson attended the opening of the musical. It was almost as if ABBA had never gone away at all, but had remained as one of the most popular acts in the nation.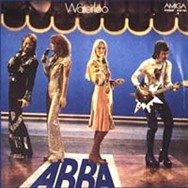 This was not so surprising. For although a lot has been said about ABBA's phenomenal success elsewhere – the hysterical fan worship in Australia, or the group's nine number one singles in the UK – West Germany was in fact one of the very first countries outside Scandinavia to take an interest in the Swedish foursome. West Germany was also one of the few nations where ABBA were consistently popular throughout their entire career.
Musical tastes in Northern Europe have traditionally been quite homogenous, and when the group first started releasing records in Germany, export of Swedish artists had been going on for a long time. Some performers acheived considerable success on that market, particularly in the 1960s. Indeed, in that decade, Björn (as a member of the Hootenanny Singers), Benny (with The Hep Stars) and Agnetha all released German language records and appeared on television in West Germany. Agnetha's German solo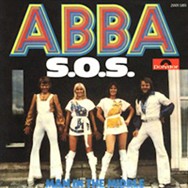 career continued until the early 1970s, at which time Björn and Benny also released a single as a duo.
It was logical, then, that when the four ABBA members started working together as a group in 1972, their very first single, 'People Need Love', was picked up by Polydor Records in West Germany. In early 1973, the group even promoted the song on the television programme Disco, certainly the first time the group was seen on television screens outside the Nordic countries. Alas, at that time Agnetha was pregnant with her daughter Linda, so she was replaced by Frida's friend, Inger Brundin, who mimed along with the rest of the group. At the time the group was still so unknown that few viewers were likely to notice.
Recording in German
When Björn and Benny, Agnetha and Anni-Frid, as they were known at the time, came up with 'Ring Ring', it, too, was released by Polydor. The group even recorded a German language version of the song, which was released as a single. The B-side featured a version of the Ring Ring album track 'Another Town, Another Train', entitled 'Wer im Wartesaal der Liebe steht'. One year later, when the group broke through with 'Waterloo' – their first number one hit – this song was also treated to an alternate German version. But that was the last time that ABBA ever recorded in German. Although it was thought that these recordings would help the group in their attempts to achieve a convincing breakthrough, it turned out that sales were insignificant in comparison with the regular, English language releases.
When ABBA experienced a slump in their popularity in certain countries following the 'Waterloo' hit, West German pop music fans never stopped buying their records. And when the group embarked on their very first tour outside Scandinavia in November 1974, they performed more concerts in West Germany than anywhere else. Incidentally, shortly before the tour, they managed to squeeze in their East German television début on a show entitled Ein Kessel Buntes. ABBA were very successful on the other side of the Iron Curtain, and it was said that if they had only been allowed to meet the demand – most Eastern Bloc countries had strict regulations as to how many records could be manufactured and sold by Western acts – their sales success would have been spectacular instead of simply impressive.
In the autumn of 1975, most of the world had capitulated completely to ABBA's charms, as their 'SOS' single proved beyond any shade of a doubt that they could come up with truly inventive, classic pop. Accordingly, this single was the first of six consecutive charttoppers for ABBA in West Germany, a run that continued with 'Mamma Mia', 'Fernando', 'Dancing Queen' and 'Money, Money, Money', before ending in 1977 with 'Knowing Me, Knowing You'. During ABBA's active years the group also scored six number one albums in West Germany. The most successful of these was Arrival, which spent a mind-boggling 14 weeks at the top of the charts.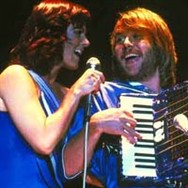 Media frenzy
Naturally, the West German population was eager to see the group they loved so much performing live in concert. ABBA's tour of Europe in January and February 1977 included no less than five concerts in West Germany, while their autumn 1979 outing included a further five shows. Ticket sales for their 1974 tour had been a bit shaky in some venues, but a few years later there were no such problems – every single performance was sold out.
With such phenomenal triumphs it followed that ABBA turned into a highly interesting subject for the West German press, not least the colourful pop magazine Bravo. From the moment the group became famous in 1974, the magazine started publishing features, more often than not illustrated with pictures taken by photographer Wolfgang "Bubi" Heilemann. So prolific was Heilemann in his coverage of the group that in 2004 he was able to publish a mammoth volume of his photographs, entitled ABBA – Photographs 1974-1980.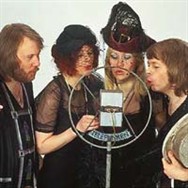 Incredible as it may sound, it was also through Bravo that Frida was reunited with her father, Alfred Haase, in 1977. Reading a biographical profile on Frida, a young reader happened to notice that the name of Frida's supposedly deceased father – a sergeant in the German army during the Second World War – was the same as her uncle's. One thing led to another and a little over a week later, father and daughter were able to meet each other for the very first time.
The press was not alone in devoting extensive attention to ABBA; their popularity ensured that they were also frequent guests on West German television. Indeed, with their pre-fame appearance in 1973 and regular appearances right up until the end of the group in 1982, it is likely that no other country can boast as many exclusive television performances by ABBA as West Germany.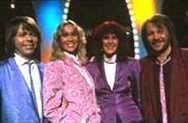 Perhaps their appearance on the programme Show Express in 1980 was the most striking example of just how eager television producers could be to secure the group's participation. Shortly before this particular edition of Show Express, ABBA had experienced a kidnap threat, and were advised by the police not to leave Sweden. Consequently, they had no choice but to cancel their appearance. But the Show Express producers would hear of no such thing – they were determined to have ABBA and simply arranged for a live link-up from a television studio in Stockholm. Problem solved!
Farewell – and return
One of the very last public appearances ABBA did as a group also happened on Show Express. In November 1982, they performed their three final songs on the show: 'The Day Before You Came', 'Cassandra' and 'Under Attack' – the first two titles were never featured on any other television show. Furthermore, West Germany was one of the few territories where 'The Day Before You Came' became a sizeable hit, reaching number five on the chart.
As 1982 drew to a close, it was time for ABBA to say goodbye to the world, West Germany included. But after a complete absence from the charts for almost a decade, ABBA returned with a vengeance on the German market in 1992, just as they did everywhere else at the same time. By that time the Berlin wall had fallen and Germany was one united nation again. The brand new ABBA Gold compilation album proved that neither half of the country had forgotten the group – the album spent 60 weeks on the chart, 11 of which at number one.
With Mamma Mia! having playing to sold out houses in West Germany – and with especially translated German lyrics to boot – it seems certain that ABBA will continue their stronghold on the German market for many years to come.