In Focus: ABBA in the United States
The highly successful Mamma Mia! movies has helped spark a global ABBA fever, not least in the United States. So join us as we chart ABBA's history in the land of Uncle Sam, where the group is now bigger than ever.
"Svenska flicka", Playboy style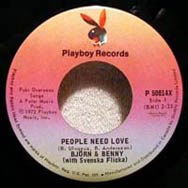 In 2008, with the Mamma Mia! movie – featuring ABBA's songs – being a box office smash, and the ABBA Gold collection of the group's greatest hits topping the Billboard Catalog chart (actually outselling most albums on the regular albums chart), it's hard to justify the long-held claim that ABBA never made it big in the United States. And yet, during the group's heyday, that was the true state of affairs. The group certainly scored a number one hit on Billboard's singles chart with 'Dancing Queen', along with a dozen Top 40 hits, and enjoyed two further number ones on the Adult Contemporary chart with 'Fernando' and 'The Winner Takes It All'. But ABBA's single hits never quite translated into massive album sales, and the four individual members remained fairly anonymous, never quite turning into household names. Compared to the group's success in Europe and Australia, the impact in the United States was fairly modest. In the words of Jerry Greenberg, the head of ABBA's American record label, Atlantic Records, "We were doing okay, but they were nothing like they were everywhere else. Everywhere else it was like The Beatles."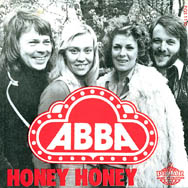 ABBA's story in the United States actually began with their very first recording, before they were even known as ABBA. 'People Need Love' was released as a one-off single in Sweden in 1972, credited to Björn and Benny, Agnetha and Anni-Frid. The group's manager, Stig Anderson, made use of all his international music business connections to have the recording released in as many territories as possible. However, he only succeeded in a few countries, one of them being the United States where the song was released on the fairly tiny Playboy label. Credited to the ludicrous "Björn and Benny (with Svenska Flicka)" (translated as "Swedish girl", the credit presumably being an attempt to transform Björn and Benny into Playboy-style swingin' bachelors and Agnetha and Anni-Frid into sexy Scandinavian bunnies), the song actually showed up in the lower regions of two then-significant single charts, peaking at number 114 on Cashbox and 117 on Record World.
Echoes of Spector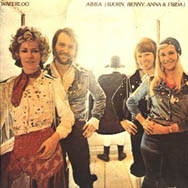 But despite this half-promising beginning the connection between ABBA and Playboy was soon severed. In 1974, with 'Waterloo' becoming a big hit in Europe, Stig Anderson had to find a new record label in the United States. No doubt he was determined to find a label with a bit more clout and muscle than Playboy, and after a while he signed with Atlantic Records, home of legendary soul performers such as Aretha Franklin, as well as massive rock acts such as Led Zeppelin. The fact that ABBA had won the Eurovision Song Contest meant very little in the United States, and it was the strength of the record alone that sold it to Atlantic. "I happen to be a big fan of Phil Spector and everything that he did", recalled Atlantic's Jerry Greenberg. "When I first heard 'Waterloo', to me it sounded like a Spector record: it had this kind of echoey drum sound. I didn't know anything about the people singing on the record, but to me it was a hit."
And, indeed, a hit it was. 'Waterloo' reached number six on the Billboard singles chart – with the exception of Blue Swede, who'd recently hit number one with 'Hooked On A Feeling', it was the best US chart-placing ever achieved by a Swedish act. Both ABBA and Atlantic Records were eager to build on this success, and in conjunction with the release of the follow-up single 'Honey, Honey' the group visited the United States for the first time. As promotional visits go it was a fairly modest outing: just a few days of meet-and-greets and appearances on radio and television. And although the group gained a Top 30 placing for 'Honey, Honey', the Waterloo album didn't do so well. Despite highly favourable reviews – in fact, much more positive than their high-profile counterparts in the Swedish press – the album only reached 145. Although ABBA would go on to better their US album sales considerably, achieving platinum awards for the albums Greatest Hits (1976) and ABBA – The Album (1977), they never quite enjoyed the overwhelming success that was taken for granted in most other countries.
Being hip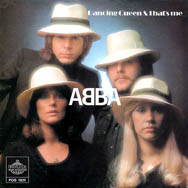 So what was the reason for these comparatively modest achievements for ABBA in the US? Well, there certainly wasn't anything wrong with the music. Although hindsight tells us that the Seventies were dominated by introspective rock and extroverted stadium performers, America still had plenty of room for pure pop and good, solid tunes. Take, for instance, Carpenters and Paul McCartney and Wings. Like ABBA, both groups defended the right to write and perform melody-based and well-produced hit music at this time. Unlike ABBA, however, those acts achieved multi-platinum album success in the United States. One crucial difference was, of course, that they toured the US extensively – or otherwise made their presence felt – something that ABBA refused to do. Agnetha, Björn, Benny and Frida always preferred staying in Sweden, where their time would be spent writing and recording their music. As far as promotion went, they pioneered the art of the promo clip (today known as videos) and concentrated their efforts on television programmes with high viewer ratings. And although they devoted a couple of weeks in the US to such promotion, in both 1975 and 1976, it wasn't quite enough.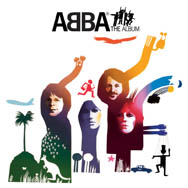 ABBA simply weren't prepared to "pay their dues" on the US live circuit with extensive tours. "There is no demand for us as headliners in this country but that's the only offer we would accept," Benny told The Los Angeles Times, putting the finger on a paradox that would remain unresolved for the remainder of ABBA's career. But despite the lack of concert tours ABBA managed to achieve a US number one single with 'Dancing Queen' in April 1977. As Jerry Greenberg recalled, it provided a window of opportunity for the group that they could have capitalised on, had they been so inclined. "Up until then ABBA were very much considered a straight pop act, but 'Dancing Queen' became a disco favourite, which I think really helped turn the image of the group around. They gained a new audience. All of a sudden ABBA were getting played in the clubs: they were hip."
Million after million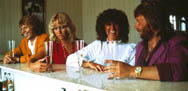 However, in the immediate aftermath of their US number one ABBA had their hands full with writing and recording ABBA – The Album and finishing off ABBA – The Movie. It wasn't until a year later that they took another crack at breaking the US. A $500,000 promotional campaign was launched and May 1978 was declared "ABBA Month". ABBA starred together with Olivia Newton-John and Andy Gibb in a television special. The results were encouraging: the group's current single, 'Take A Chance On Me', reached number three, while ABBA – The Album went platinum and peaked at number 14, their best-ever US album chart placing. But the success was still far from overwhelming – ABBA simply didn't have enough presence in America.
In 1979 ABBA finally embarked on their first concert tour of North America. But although the tour was successful, it was a fairly brief outing and, in fact, signalled the beginning of the end of the group's history as live performers. After ABBA left America in October 1979, they were never to return again as a foursome. The following year there was one more US Top 10 hit for the group, in the shape of the formidable 'The Winner Takes It All', as well as a gold-certified Top 20 album, Super Trouper. But after that, what little profile they had had in the United States soon faded away completely. For the average American, ABBA would largely be remembered as "the disco group who did 'Dancing Queen'".
But with the release of ABBA Gold in 1993 (it had been issued in most other countries the previous year), the group's music gained new popularity. Although upon release it only reached number 63 on Billboard's Albums chart, it has since gone on to sell more than 32 million copies – more than any of ABBA's other albums – and has spent more than 900 weeks on the Official Album chart. With the added success of the Mamma Mia! musical, and the Mamma Mia! movies, ABBA's music has become ubiquitous. So although the American general public may perhaps never completely familiarise themselves with Agnetha, Björn, Benny and Frida as individuals, today they are fully aware that there was plenty more to ABBA than 'Dancing Queen'.