ABBA The Vinyl Collection
ABBA: The Vinyl Collection is a limited edition box set containing ABBA's eight studio albums, originally released 1973–1981: Ring Ring, Waterloo, ABBA, Arrival, ABBA: The Album, Voulez Vous, Super Trouper and The Visitors. The box set also contains a bonus album, entitled ABBA Tracks, the A-side of which contains the five single A-sides not included on the original studio albums. The B-side of ABBA Tracks features a further five non-album songs, personally selected by ABBA's Benny Andersson.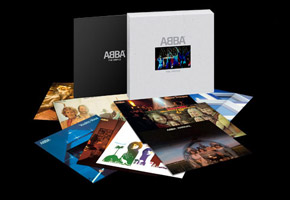 Going back to the analogue master tapes for each individual album, as originally prepared by ABBA and their associates, the albums in the ABBA: The Vinyl Collection box set have been remastered for vinyl especially for this release. The track listings of the albums mirror the original Swedish releases, as originally planned and conceived by ABBA. Similarly, the eight studio albums are presented in replica covers featuring the original art work and inner sleeves – exactly as they looked when they first hit record shops back in the '70s and early '80s.