ABBAWORLD to premiere at Earls Court on 27th January
THE WORLDS FIRST CHANCE TO INTERACT WITH ABBA AS PART OF A UNIQUE MULTI-MEDIA EXPERIENCE 'ABBAWORLD' THANKS LONDON FOR THE MUSIC AND CHOOSES EARLS COURT FOR THE WORLD PREMIERE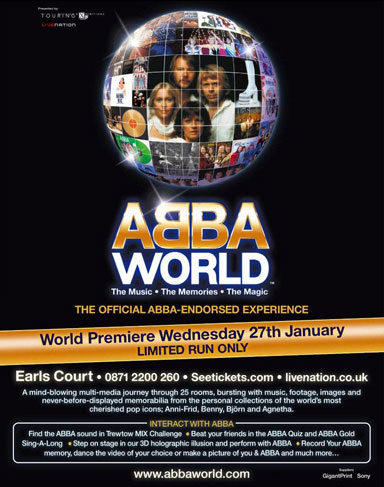 Fully approved and supported by ABBA, ABBAWORLD will make its stunning, sequin spangled, world debut in London at Earls Court on 27 January 2010. The hugely interactive experience will take visitors on a mind-blowing journey through ABBAWORLD'S 25 rooms, bursting with exclusive music, footage, images and never-before-displayed memorabilia from the personal collections of the world's most cherished pop icons; Agnetha, Benny, Björn and Frida.
An engaging introductory movie by critically acclaimed film director, Jonas Åkerlund, will start the experience and a free audio guide will move visitors through the magical space at their own pace.
The phenomenon of ABBA will be brought to life with interactive highlights including 'Perform with ABBA' which will allow fans to get up on stage with their idols, as part of a stunning 3D holographic illusion. 'Tretow MIX Challenge' – a chance to mix things up and re-create the ABBA sound, the 'ABBA Quiz' which will test fans knowledge. There is also the opportunity to Sing-A-Long and dance with ABBA, plus a chance for fans to see themselves as part of an ABBA video.
Better still, as part of the ticket, all interaction will be recorded so people can choose to access it later online at http://www.abbaworld.com/, allowing their experience to live on and on, just like the music. On entry to ABBAWORLD, guests will have their photograph taken, this will appear during a number of the interactive features; fans will see themselves as part of ABBA album covers, posters and other iconic pictures.
London is the obvious choice for the world premiere of ABBAWORLD. The UK has a special place in the history of ABBA and it was here that global ABBA fever started with the glorious win of 'Waterloo' at the Eurovision Song Contest in Brighton in 1974. ABBA topped the charts in the UK more times than anywhere else in the world and through the smash hit musical Mamma Mia and its ten-year success in London together with the Mamma Mia movie being the highest grossing movie of all time at the UK box office, a new audience has taken ABBA to their hearts.
The Swedish super group created a legendary sound that sold close to 400 million records and made the whole world take to the dance floor. ABBA once again create history through ABBAWORLD; the interactive and audiovisual experience of the world's most loved pop icons. This major world event is a close collaboration with all four members of ABBA, making ABBAWORLD the definitive experience of this groundbreaking group. ABBAWORLD will bring fans closer to the music, the magic and the memories than ever before.
Frida said "On behalf of Agnetha, Björn, Benny and I, we are delighted to be part of ABBAWORLD and to have the opportunity to share our amazing experiences with our fans. The interactive elements mean this is the first time we can actually take them on the journey with us. London has a special place in all our hearts and we are looking forward to the world premiere of ABBAWORLD in January"
Tickets go onsale at 9am on Thursday 3rd December 2009 and are priced at £22.00 / £19.50 (subject to booking fee) and are available from http://www.livenation.co.uk/
For more information about ABBAWORLD and the exhibition please log on to:
http://www.abbaworld.com/