In Focus: Our Last Summer

– the indefinable magic of a vocal performance
As ABBA's Super Trouper celebrates its 40th Anniversary in 2020, we explore the history of 'Our Last Summer', a nostalgic look back on a summer romance – one of the outstanding tracks on the album.
A feel for rhythm and timing
How do you infuse one and the same vocal performance with hope and regret, romance and disappointment, happiness and wistfulness? You could try asking Frida of ABBA, for this is exactly what she does in her lead vocal performance on the group's 'Our Last Summer'. Frida may not be able to explain exactly how she did it, though: like most great singers, she worked intuitively. "Singing is principally about a feel for rhythm and timing, knowing when to push or hold back," she said a few years ago. "When I sing, I'm expressing everything I've experienced in my life. I bring all of that to the studio. My voice is the result of my accumulated experiences."
The story of 'Our Last Summer' began in June 1980, in the midst of sessions for the Super Trouper album. ABBA's Björn and Benny were spending five days writing songs on the island of Viggsö in the Stockholm archipelago, the location of their famous songwriting cabin. 'The Winner Takes It All' was one of the tunes they brought back from their island visit; 'Our Last Summer' was another, although at that time they only had the melody, not the title. On 4 June, they gathered some of their favourite musicians in the Polar Music Studio in central Stockholm – veterans from many ABBA sessions: Lasse Wellander on guitar, Mike Watson on bass and Ola Brunkert on drums – and began working out the backing track. Benny, as always, was on keyboards
Romantically involved
With a solid, medium-paced instrumental recording in place, the next step was for ABBA's main lyricist, Björn, to put some words to the music. This was how ABBA worked, based on experience from their early days. When they started out, they might come to the studio with both music and lyrics, but by the time they had recorded the backing track, the arrangement and the feel of the tune may have changed quite a bit, which meant that the lyrics may no longer be appropriate. Much better, then, to record the backing track first, maybe add a few overdubs, and then let the mood of that basic recording inspire the lyrics. "I wanted there to be some kind of ambience in the recording," Björn once explained, "because then I would get a clearer picture of what the song was 'saying'. There was more pleasure in hearing a really great backing track, rather than listening to some tape of me and Benny banging away on a piano and acoustic guitar. It just wasn't as inspiring."
So, what did Björn hear in this backing track? There was something inherently nostalgic about the tune, which had only been strengthened by the backing track recording, and this triggered a memory from Björn's own past. Emotionally, the tune brought him back to a trip to Paris one summer when he was a teenager, visiting a girl from his home-town who was working as an au pair. "We had not been romantically involved in Sweden," he recalled, "but Paris tends to have that effect on people, and so it was with the two of us. She certainly took me to see the Quartier Latin, the Champs-Élysées and the Eiffel Tower, but to be honest I don't really remember much of Paris. I mostly remember her!"
The lyrics were not a literal depiction of his own experiences, but the starting point was real. From this Björn developed a narrative, sung from the point of view of a woman looking back on a summer romance in Paris, contrasting it against the dull reality of the present. And that was the whole point. While Björn could have chosen to let the entire lyrics be a romantically blissful and wistfully nostalgic depiction of that long lost summer, he added a clever twist: the singer's love interest has turned into an unglamorous bank employee whose name is Harry. It was a good example of how ABBA would work with contrasts, throwing a bit of salt into that which was on the verge of becoming too saccharine, making the song all the more powerful as a result. The storytelling of the lyrics also provided a key to Frida's singing: in addition to her own talent and intuitive understanding of what made a great vocal performance, the twist and turns of the lyrics gave her something to work with.
An anthemic summer
For ABBA, a song was a creation you built up piece by piece in the recording studio, sometimes adding a little something, sometimes removing an overdub that didn't work, paying attention to every detail. Take the chorus vocals, for instance, which Frida and Agnetha sang together. As Björn would recall, "We wanted a certain 'pull' on the word 'summer' in chorus; we worked quite a lot with the girls on that." The key to that 'pull' can be found in Björn's teenage years, which mainly occurred in the early 1960s. In that period, after Elvis Presley's big breakthrough in the 1950s but before The Beatles came along, there were a host of male American teen idols, many of whom sang seductively romantic ballads. Now, Björn and Benny felt that Agnetha and Frida should try to sing the chorus like those teen idols did; it served to remind the listener of the era of Björn's Paris romance, however subtly.
And there are more fascinating details to discover. If you listen closely to Lasse Wellander's guitar solo, you will notice that in the background – at 02:47 and for a further few seconds, to be specific! – there are a few chords and a bit of melody that sound uncannily like a section of 'Anthem', from the 1984 musical Chess, which Björn and Benny wrote together with Tim Rice. The stately, hymn-like melody for 'Anthem' had been around since the mid-1970s, but Björn and Benny couldn't quite agree whether it was suitable for ABBA. "I tried to get it on one of our LPs," Benny recalled many years later, "but there was always resistance from my partner: 'You can't have a song like that on a pop album'. He was absolutely right about that." But during Lasse's guitar solo, a bit of the song that would become 'Anthem' can be heard on the piano (the passage corresponding to "How can I leave her? / Where would I start?" in 'Anthem'). "When we finally used the whole melody for 'Anthem'," said Benny, "we figured that no-one would have noticed that little part enough to say that we had 'stolen' anything from 'Our Last Summer'."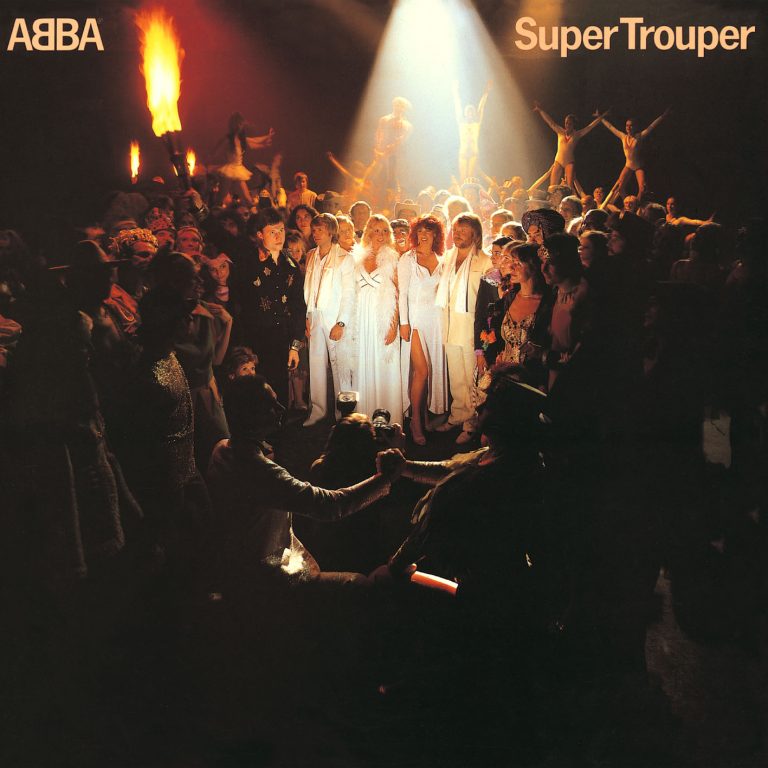 Indefinable magic
The finished recording was certainly one of the highlights on the Super Trouper album – none other than Agnetha Fältskog has declared it as one of her all-time favourite ABBA tracks. However, it was never released as a single A-side, and therefore, as so often happens with album tracks, with time it was forgotten by most people outside the most ardent fan circles. It was brought into the spotlight again in 1993, when it was included on the million-selling compilation album More ABBA Gold, the follow-up to the incredibly successful ABBA Gold hits collection.
The song's true chance to shine, however, came when it was featured in the blockbuster musical Mamma Mia!, based on ABBA's songs. In the 1999 musical, one of the plot-driving features is the mystery of who exactly is the father of one of the main characters, Sophie, and so the "Harry" of the 'Our Last Summer' lyrics was turned into one of three possible dads. In the stage musical, the song is performed as a duet between Harry and Sophie's mother, Donna. When the musical was made into a film in 2008, it was performed by Harry (Colin Firth) and Sophie (Amanda Seyfried), with some parts by the two other possible dads, Sam (Pierce Brosnan) and Bill (Stellan Skarsgård). Here, the perspective of the song is turned around completely so that the three dads reminisce about the summer they spent with Donna, rather than the other way around.
However, the Mamma Mia! actors will certainly agree that for all the effort and feeling they put into their performances, ABBA's original version of 'Our Last Summer' will remain the definitive interpretation – not least thanks to the indefinable magic of Frida's stellar vocal performance.