In Focus: Knowing Me, Knowing You – three decades of heartache
In this feature we trace the journey of one of the Arrival album's standout tracks, from its embryonic state to its success as a worldwide hit single.
Number one, number one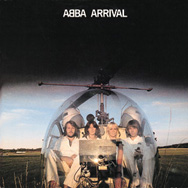 March 1976 was an important month in ABBA history, marked by at least two pivotal events for the Swedish foursome. The first happened on March 4, when the group arrived in Sydney for their very first visit to Australia. For the past six months their popularity in that part of the world had grown to incredible proportions. When ABBA left the country nine days later, on March 13, they had been subject to innumerable interviews and also appeared on television a number of times, including a famous television special that attracted a record-breaking number of viewers.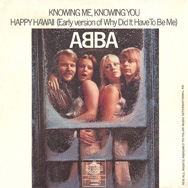 The second event occurred a further ten days later, when they entered the recording studio to start work on perhaps their most celebrated studio album: Arrival. Sessions had actually begun tentatively in August 1975 – when 'Dancing Queen' was recorded – but since then they had been busy with promotional work, finishing up solo albums, and doing production work for other Polar Music recording artists. Now, finally, the four members had the time to concentrate exclusively on ABBA and recording brand new music.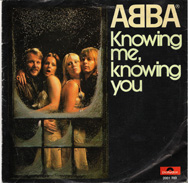 The very first song to be started on March 23, the first studio day, was adorned with the working title 'Ring It In'. Benny handled the keyboards as usual – in this case, an electric piano – Björn may have contributed some guitar, while other ABBA session regulars completed the line-up for the backing track recording: Janne Schaffer on electric guitar, Rutger Gunnarsson on bass, Ola Brunkert on drums and Malando Gassama on percussion. The working title was eventually changed to 'Number One, Number One', before ABBA manager and sometime lyricist, Stig Anderson, came up with one of his many famously catchy song titles: 'Knowing Me, Knowing You'.
A house being emptied
Whereas English-language lyric writing had often been a collaborative process in the past – with Stig Anderson preparing a lyric that Björn would then do further work on – by 1976, Stig was mainly contributing titles only (after the following year's ABBA – The Album, Stig would have no hand at all in the group's lyrics). It would then be up to Björn to build a story around the song title that Stig had come up with. Björn has described how this process would usually work. Armed with only the title and a rough mix of the basic backing track, he would listen to it over and over again to see what the song was "saying" to him in this rudimentary state. In the case of 'Knowing Me, Knowing You' the recording's mid-tempo pace and slightly unsettling shifts between major and minor chords, combined with the pragmatic title, suggested a theme of a couple accepting the inevitability of their break-up – "we just have to face it, this time we're through", as the completed lyrics would have it.
Although much have been made of 'Knowing Me, Knowing You' being one in a long line of songs depicting the two ABBA couples' real-life divorces, it should be pointed out that it was written and recorded years before either of them decided to go their separate ways. Although in the book Mamma Mia! How Can I Resist You, Björn admits that "It's possible that I felt a premonition about something", he also stresses that the lyrics were more about him trying to advance himself as a lyricist. "It's as simple as me being able to imagine a house being emptied, with boxes standing against walls and all the furniture being taken away, just a few bits and pieces left behind, and the echoing steps of a man walking around those rooms and remembering the past."
One of the highlights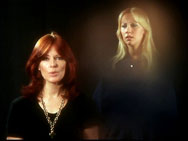 In hindsight, the "fait accompli" theme of the lyrics and the dark drama of the song made it a natural song for Frida to handle as lead vocalist. She turned in a bravura performance, colouring her tones with her very own brand of restrained regret and resolved determination to see the crisis through. Full marks also to Agnetha's supporting role, where her ghost-like echoes of "memories, good days, bad days" certainly add an eerie overtone to the song.
On May 24, guitarist Lasse Wellander added new guitar parts to 'Knowing Me, Knowing You', including the characteristic guitar solo lines; this was the last known recording date for the song. One suspects that even at this relatively early stage in the game, with only about half of the songs for the album recorded, ABBA must have sensed that this was to be one of the highlights of the completed LP. Indeed, to this day it remains a favourite for the group members. "'Knowing Me, Knowing You' is a great recording," says Benny in the Mamma Mia! book. "I really like it, and the verse is one of my favourites."
Summer and winter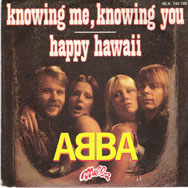 In the summer of 1976, while ABBA were still working on their album, 'Knowing Me, Knowing You' was "visualised" for the first time. It was one of the songs to be featured in the upcoming television special ABBA-dabba-dooo!!, filmed by Swedish television between June and September. In this clip of the song, director Leonard Eek filmed the members in the Stockholm archipelago, on and around the island of Viggsö, where they all had summer houses and, famously, wrote many of their songs. This rarely seen clip, and indeed the entire ABBA-dabba-dooo!! television special, is now available for everyone to watch on the DVD included with the Arrival Deluxe Edition.
In October 1976 Arrival was released, and a few months later it was decided to release 'Knowing Me, Knowing You' as the third single from the album (after 'Dancing Queen' and 'Money, Money, Money'). At that point, ABBA's regular promo clip director, Lasse Hallström, was called-in to film a "proper" clip for the song. At some point in late 1976 or early 1977, when ABBA were otherwise busy rehearsing and preparing for their imminent tour of Europe and Australia, they trudged out in the snow-filled, almost too typically Swedish winter landscape to film a clip for 'Knowing Me, Knowing You'. Completed with interior scenes, the clip was one of the most famous examples of the clichéd video image of ABBA, where the group members would be coupled in different combinations of pairs, contrasting one against the other. Lasse Hallström's film of 'Knowing Me, Knowing You' is available on a number of DVD releases, such as The Definitive Collection, ABBA Gold and Number Ones.
When the 'Knowing Me, Knowing You' single was released on February 18, 1977, it became a spectacular success, reaching number one in the UK, Ireland, West Germany, Mexico and South Africa, and the Top Three in Austria, Belgium, Canada, Switzerland and The Netherlands. Three years later, it was one of the songs selected for inclusion on ABBA's Spanish-language album, Gracias Por La Música; the Spanish version, 'Conociéndome, Conociéndote', was recorded in January 1980, with the album release following a few months later (today it can be heard on the ABBA Oro CD collection of ABBA's Spanish recordings).
Ever since first becoming a worldwide hit single, 'Knowing Me, Knowing You' has held a position as one of ABBA's most loved and admired songs, often hailed as one of their first signs of true maturity. Like much of the group's best work, this is partly because it strikes a chord with everyone who's ever tried and failed at making a relationship work. But above all, with 'Knowing Me, Knowing You' ABBA created one of the finest pop recordings of the 1970s.
NOTE: To find out more about Arrival Deluxe Edition, visit the Articles section here at ABBA – The Official Site.