In Focus: North American & European Tour 1979
September 1979 saw the launch of ABBA's autumn tour of North America and Europe. Join us for this look back on the group's adventures on what turned out to be their last major tour.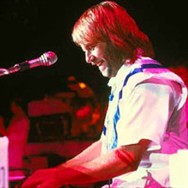 To tour or not to tour
In terms of the international rock scene in the 1970s, ABBA was, in many ways, a most unusual band. Take touring, for example. Many other acts saw this as something they simply had to do, whether they liked it or not. When an album was released it was the band's "duty" to promote it as much as possible, and the way to do that was to go on tour. Some artists even toured parallel with their hard work in the recording studio, flying back and forth between audience-filled stadiums and the intensely private studio environment.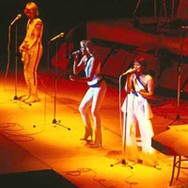 But that was not for ABBA. As far as their musical career was concerned, writing songs and working in the studio was always their number one priority. Everything else – from photo shoots and video filming, to interviews and promotion – they could have done without most of the time. Of course, as four individuals they each had a slightly different take on the matter. All four members loathed the travelling that comes with the touring experience, as indeed do most rock stars. But onstage their feelings were more divided. "I think its dead fun being onstage," Frida once said. "I feel secure because I enjoy what I'm doing." Agnetha was more ambivalent. Meeting the audience could be an emotional kick for her, but she never felt entirely comfortable as a stage performer. Björn and Benny's feelings were somewhere inbetween most of the time: they had each performed at least 1,000 gigs during their careers as local pop stars in 1960s Sweden. With some reason, they felt that they had done their share of touring.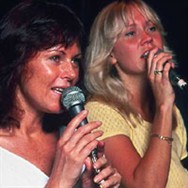 However, even ABBA went out to meet their audience from time to time. But by 1979, five years after their international breakthrough, touring outside Swedish borders had been limited to a few weeks in Europe and a short venture to Australia. That was all. So far the band's videos and their television appearances had worked very well for them as promotional tools. But the band knew – as did their manager, Stig Anderson – that there was one continent where touring was absolutely necessary if you wanted to make an impression: the United States of America.
So far, ABBA's record sales had been impressive if not exactly explosive on the American market. Dancing Queen had been a number one, and a promotional campaign in the spring of 1978 had kicked Take A Chance On Me up to number three on the charts. But album sales had remained a little slower for ABBA, their LPs seldom staying very long in the Top 20. Therefore, they finally bit the bullet and decided to make a concert tour of the United States in the autumn of 1979. The tour would then be extended to Europe, concluding with two weeks in Japan in the spring of 1980.
Preparing for the Big show
For this tour, ABBA wanted to be especially well-prepared and began preliminary rehearsals in May 1979, four months before the start of the tour. "We tour so infrequently that we need to have a little warm-up", said Benny. "Especially since we're going to the United States, where we've never been before. … We need a little extra self-confidence as a stage act." To try out their new band, ABBA even performed surprise concerts at clubs in two Swedish towns. For one of the biggest acts in the world to appear live onstage in front of just a few hundred people was certainly not an everyday occurence. Small wonder that the crowd was filled with dropped jaws.
After a summer break, rehearsals continued in August. At this time, Björn and Benny were also trying to come up with a brand new song that could be released as a single in conjunction with the tour. After a couple of attempts they finally came up with the tune they were looking for: the disco number Gimme! Gimme! Gimme! (A Man After Midnight).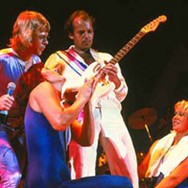 On the Stage tonight
Rehearsals concluded, costumes fitted and sown, and stage settings designed, ABBA were finally able to commence their tour. The first concert took place at Edmonton's Northlands Coliseum in Canada on September 13, 1979.
In the backing band were mostly ABBA's usual tour and studio regulars: Ola Brunkert on drums, Rutger Gunnarsson on bass, and Lasse Wellander on guitar. Anders Eljas, who later co-arranged and orchestrated Björn and Benny's musicals Chess and Kristina från Duvemåla, provided additional keyboards. An unfamiliar name for international audiences was backing singer Tomas Ledin. Tomas – the boyfriend of Stig Anderson's daughter, Marie – was a new signing to ABBA's record label, Polar Music. He was also awarded a solo spot in the show, performing his current disco rock single, Not Bad At All.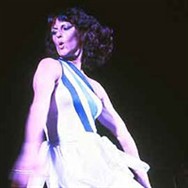 The largely white, blue and purple stage set was meant to reflect the "chilly" Nordic origins of ABBA. The backdrops took the shape of icebergs, underlining the "north pole" theme. The man behind this concept was designer Rune Söderqvist, working closely with costume designer Owe Sandström."We used the last three colours of the rainbow – blue, indigo and violet – as the starting point for our designs", Owe recalled. "Then we studied all ranges of coulours imaginable; it's no exaggeration to say that we looked at several hundred different shades of those three colours."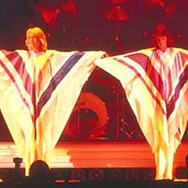 The tour went on from Canada to various cities in the United States, and then back to Canada again, before ABBA returned to Sweden for a break. The US part of the tour was only half-successful: a couple of concerts were not quite the sold-out smashes the group and their manager had hoped for. There was also an incident where ABBA's private plane got caught up in bad weather, a horrific experience for Agnetha, who already had a fear of flying. "For one and a half hours our lives were in mortal danger – that's how it felt for me", she recalled. As a result of Agnetha's trauma and a flu she was battling at the same time, a concert in Washington had to be cancelled.
The critics were divided in their opinion of the show, some praising the group, others complaining that ABBA were too well-behaved, far from the usual stadium rock'n'roll performance. But most audiences were well aware they weren't up for a wild Led Zeppelin-style rock fest and simply enjoyed ABBA for what they were. The show featured energetic interpretations of a wide range of ABBA hits, with a particular emphasis on the group's then current album, Voulez-Vous. Audiences were also treated to a brand new ballad, I'm Still Alive, written and performed by Agnetha (Björn provided the lyrics).
On October 19, the European part of ABBA's tour started with a concert in Gothenburg, Sweden. After mostly sell-out dates in Denmark, France, The Netherlands, Germany, Switzerland, Austria, Belgium, England (including a mind-boggling six concerts at London's Wembley Arena) and Scotland, the tour finished with a concert in Dublin, Ireland on November 15. After ABBA took their show to Japan for two weeks in March 1980, the group never went on tour again. "My musical home is the studio, not the stage", Agnetha remarked at one point – and she might as well have been speaking for the whole group.
In 2014, a document of the 1979 tour was finally released in the shape of the album Live At Wembley Arena, capturing one of the shows from ABBA's triumphant six-night residency at the famed London concert venue. As one very special attraction, the album featured Agnetha's I'm Still Alive, which the group never recorded in the studio – Live At Wembley Arena saw its first release. Above all, though, the album takes you back to a magical night in front of an ecstatic audience, as ABBA gave their all on the concert stage.