In focus: Stig Anderson – master of words
May 7, 2007, saw the release of Text: Stikkan Anderson ("Lyrics: Stig Anderson"), a double-CD celebrating the famous ABBA manager's career as one of Sweden's most prolific and successful lyricists. This gives us reason to take a closer look at his life's journey from abject poverty to powerful music industry figure.
Writing your own songs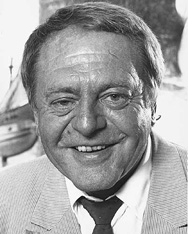 Stig Erik Leopold Anderson was born January 25, 1931, in the small town of Hova in the Swedish county of Västergötland. The son of Ester Andersson and a father he never knew, Stig's early years were marked by abject poverty. Growing up in an almost shed-like cottage, Stig was nevertheless impressed by his mother, who worked with anything and everything she could to make ends meet. This resourcefulness was inherited by Stig, who began taking on various kinds of jobs at an early age. "There was plenty of work to be had for anyone who wanted it," he recalled.
Music entered Stig's life while he was still a young boy. Despite her poverty, Stig's mother managed to buy an old gramophone and six 78 rpm records when her son was about five years old. Stig felt an immediate connection to music, singing along to the hits of the day and the records his mother chose. It wasn't long before he discovered that he also enjoyed singing in front of people. When he was in his teens his mother bought him a cheap guitar, and eventually he started performing in local revues.
Before long he realised that performing current hits was one thing, but writing your own songs presented a more interesting challenge. Rejection from a girl he fancied set the ball rolling. "I went home and wrote a satirical ballad about her. Then I performed it during a meeting with the local temperance society and got a great response. That's when I realised that it's fun to write songs." At the tender age of 16, Stig wrote 'Tivedshambo' ('Hambo From Tived'), which in 1951 became the first of his songs to be recorded. A folksy number, its colourful depiction of a particularly wild traditional Swedish dance festivity in the woods proved that Stig was already able to tap into the public consciousness. The song was to become one of his most well-known, as well as a Swedish accordion classic.
Rough times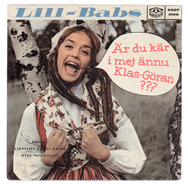 As the Fifties progressed, Stig's career in music stumbled along. Although he was making a name for himself both as a performer and as a song writer, achieving the occasional hit, he never quite made it into the big league. In 1955 he married his wife, Gudrun, and by the end of the decade, they had two children: Marie and Lars (a third child, Anders, was born in 1966). To achieve some kind of security Stig had studied to be a teacher, and found employment at an elementary school in 1957. The following year he achieved his first major hit, when legendary Swedish football hero Nacka Skoglund recorded his composition 'Vi hänger me' ('We're Still Here'). The record spent 20 weeks in the singles and EP chart, peaking at number six. Around the same time he acquired the nickname Stikkan, invented to establish a syntactic unity with a performer named Akke Carlsson, with whom Stig had a stage act. Stikkan would be the name under which he would be known in his home country for the rest of his life, although outside Sweden he remained Stig.
Following that first 1958 hit, over the next few years everything gradually came together for Stig. His friend Bengt Bernhag had emerged as one of Sweden's top record producers, and in late 1959 Bengt produced a recording of Stig's song 'Är du kär i mig ännu, Klas-Göran' ("Are You Still In Love With Me, Klas-Göran"). As performed by singer Lill-Babs, Bengt decided that the song should be recorded as a comedy number – against Stig's wishes. However, this turned out to be a master-stroke, as the song became one of the biggest hits of 1960.
That same year Stig founded his own publishing company, Sweden Music, and quit his teaching job. Instead, he began the career that would be his main source of income for the remainder of the decade. Stig threw his own song writing out the window and instead concentrated on importing songs and copyrights to Sweden, writing the Swedish lyrics himself, securing a cover version with a famous artist, and thus gradually built up a music publishing empire. However, for the first few years of the Sixties there were some truly rough times, when the Anderson family could hardly pay their bills.
Churning out lyrics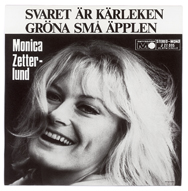 It is Stig's career as a lyricist up until the mid-Seventies that is celebrated on Text: Stikkan Anderson. On the double-CD are his Swedish versions of Sixties and early Seventies hits such as 'Green Green Grass Of Home', 'The Most Beautiful Girl', 'You Don't Have To Say You Love Me', 'It's My Party', 'Monday, Monday', 'You've Got A Friend', 'Honey', 'Hello Mary Lou' and 'Rose Garden'. He also saw the potential in more obscure songs, such as Buffy Sainte-Marie's 'I'm Gonna Be A Country Girl Again', which, with Stig's Swedish lyrics, became a major hit for singer Lena Andersson. "It was hard work," he recalled of the days when he would churn out lyrics by the dozens. "I had office work to take care of during the day-time, so I had to write the lyrics in the evenings. During the night-time I would handle the correspondence with foreign publishers."
The opening track on the double-CD is 'Gröna små äpplen' by Monica Zetterlund (originally 'Little Green Apples'), one of the lyrics Stig was proudest of. He had originally written a completely different set of lyrics, recorded by another singer, but upon Zetterlund's request rewrote them, with impressive results. However, this Swedish version did not become a hit, and Stig often regretted that some of his most well-crafted efforts seemed to bomb, while something inconsequential dashed off in 15 minutes would become a big hit. But inconsequential or not, when Stig was at the top of his game, his highly developed sense of rhythm and meter – combined with a good feeling for the value of the words and a finely tuned sense of humour – resulted in effective lyrics that were a few notches above what could be expected from three-minute pop songs.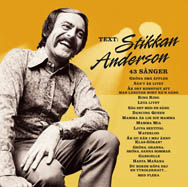 In 1963, Stig and Bengt Bernhag founded the record company Polar Music. Their very first signing was a group called the Hootenanny Singers, where one of the members was the 18-year-old Björn Ulvaeus. Hootenanny Singers were by far the most successful artists on Polar throughout the Sixties. Most importantly, when Björn brought his friend Benny Andersson – from The Hep Stars – to Polar and Sweden Music, the trio of Stig, Björn and Benny established a collaboration as song writers. One of their first works was a song entitled 'Ljuva sextital' ("The Good Old Sixties"). The lyrics, an ironic look back at the progress made during the past decade – including everything from the sexual revolution to trips into space –was Stig at the peak of his ingenuity. Together with 'Gröna små äpplen' and a third tune entitled 'Mamma är lik sin mamma' ("Mum is just like her mum"), Stig's wordsmithery on the song earned him a Swedish Grammy.
International success
'Ljuva sextital' became a major hit, bringing the trio of Andersson/Anderson/Ulvaeus even closer together as a working unit. Stig insisted that Benny and Björn would one day write a song that became an international hit, something that was virtually unheard of in the Swedish music business at the time. When Bengt Bernhag died in 1971, Björn and Benny were brought on board as house producers at Polar Music. All the while they continued their song writing collaboration, with Stig as the lyricist for their most successful songs. As ABBA exploded on the global scene, Stig played an incredibly important part. Not only did he contribute lyrics and song titles that could work on an international level – 'Waterloo' being the prime example – but he put his relentless energy and ambition to good use, as he prepared the launch of ABBA once they had received the all important exposure in the Eurovision Song Contest.
By necessity, as ABBA's international success became a full-time occupation for Stig, his lyric writing wound down, and after contributing three song titles for 1977's ABBA – The Album, he stopped writing lyrics altogether. Nevertheless, the expansion of Sweden Music into a music publishing empire continued, with the acquisition of many of the major Swedish publishing companies.
By the end of the Eighties, the ABBA saga was long since over, and Stig, approaching 60, felt it was time to wind down. Thus, his publishing empire, including the Polar Music record label, was sold to PolyGram (which in itself was later merged with Universal Music). Part of the money he raised from the sale was invested in the prestigious Polar Music Prize, which was first awarded in 1992. Among the recipients since then are Paul McCartney, Bob Dylan, Bruce Springsteen, Joni Mitchell and Stevie Wonder. In 2007, the recipients are Steve Reich and Sonny Rollins.
Stig's workaholic lifestyle had taken its toll on his health. Although he remained active in Polar Music after it had been sold, by the mid-Nineties his activities had wound down to a minimum. On September 12, 1997, he suffered a cardiac arrest. At the age of 66, Stig Anderson died.
Today, more than a decade after he passed away, his legacy and influence on the Swedish music industry is still felt. The songs for which he wrote lyrics – not only ABBA hits such as 'Waterloo', 'SOS' and 'Dancing Queen' – are still fondly remembered by the general public. The double-CD Text: Stikkan Anderson, which represents his entire career as a lyricist (and sometime tunesmith), celebrates his memory. And his best works can still provide a pointer or two to those who are working as lyricists in the 21st Century.
NOTE: Read more about Text: Stikkan Anderson and its contents in the News section here at ABBA – The Official Site.
Single and EP sleeves courtesy of Premium Publishing.