In Focus: The Agnetha Fältskog Solo Albums
The world will always recognise Agnetha Fältskog primarily for her contributions as one of two amazing lead singers in ABBA. But her recording career started in 1967, and despite 17 years when she made no recordings at all, her solo albums actually out-number ABBA's studio albums. 
She was so in love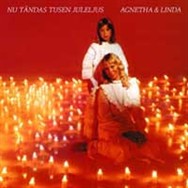 Agnetha Fältskog became a recording artist in 1967, when she was only 17 years old. A prolific songwriter for many years even at that tender age, her début single featured one of her own songs, 'Jag var så kär' ("I Was So In Love"). The single shot to number one on the Swedish sales chart in early 1968, kicking off Agnetha's recording career with a bang. Four years later, when ABBA recorded their first single in the spring of 1972, Agnetha had four albums and a slew of hit singles to her credit, all of them released on the Cupol label; for the first few years of ABBA's career, Agnetha would remain signed to that label. Her fifth album – Elva kvinnor i ett hus ("Eleven Women In One House"), released in 1975 – was the only of her albums to consist only of tunes she had written herself (except for her Swedish-language version of ABBA's 'SOS'), and seemed to usher in a new phase in her career: the female singer/songwriter, firmly in control of her recorded output. However, by the time of the album's release ABBA had exploded on the international scene, so instead Elva kvinnor i ett hus constituted Agnetha's farewell to the Cupol label. After that she became a full-time Polar Music recording artist and the remainder of the decade was almost exclusively devoted to her work with ABBA.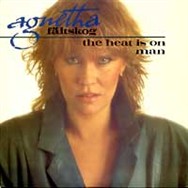 Her first release as a solo artist on the Polar label came towards the end of the ABBA era, in October 1981, and the album in question was no straightforward pop creation either. Agnetha had wanted to record something with her and Björn's daughter, Linda, for a long time. In November 1980, mother and child finally entered Polar Music Studio in Stockholm, Sweden to record a collection of Swedish-language Christmas songs. Linda was seven years old at the time. The original intention was that the album should be rush-released in time for Christmas in 1980, but it was soon realised that the deadline wouldn't be met. Therefore, Nu tändas tusen juleljus ("Now A Thousand Christmas Candles Are Being Lit"), as the album was entitled, wasn't issued until October 1981. Upon release it reached number 6 on the Swedish album chart and has remained a consistent seller each Christmas since then.
Wrap your arms around her
The next time Agnetha had the opportunity to release an album under her own name was in May 1983. The previous year had seen the ABBA era grinding to a halt, with the group making what turned out to be their very last recordings. At the time, the intention was merely to take a break, so that Björn and Benny would have the time to collaborate with Tim Rice on writing and recording the musical Chess. In the meantime, Frida and Agnetha would concentrate on their solo careers. Frida had released her first English-language album, Something's Going On, in 1982, and now it was Agnetha's turn to make her début solo album for an international market.
Her choice of producer was Mike Chapman, who'd enjoyed a highly successful career during the 1970s as songwriter and producer for the likes of The Sweet, Mud, Smokie and Suzi Quatro, and producer for acts such as Blondie and The Knack. After Agnetha had trawled through hundreds of demo tracks in late 1982, she and Chapman met up at Polar Music Studio in January 1983 to record the best of those songs. She also asked singer Tomas Ledin – a very popular artist in Sweden, who had been afforded a solo spot on ABBA's 1979 tour – to write something for her album, the resulting track being the reggae-flavoured 'Take Good Care Of Your Children'. Mike Chapman collaborated with Holly Knight on what ultimately became the title track of the album, the seductive 'Wrap Your Arms Around Me'. However, the most popular song to emerge from the recording sessions was the jubilant, calypso-styled 'The Heat Is On'. It was the first single from the album and reached number one on the Swedish chart. The track was indicative of Agnetha's overall intention for the album. "We wanted good songs with strong melodies, a positive spirit. Not just tragic ballads about someone having left you, or that life is difficult," she explained in an interview.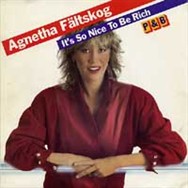 When the Wrap Your Arms Around Me album was released it shot to number one on the Swedish album chart, becoming one of the biggest albums of 1983. In international terms, alongside Frida's Something's Going On, it is the most successful solo album ever released by an ABBA member, reaching quite respectable chart positions and selling a reported 1.2 million copies worldwide. Agnetha herself has said that it's her favourite among her 1980s output. Another major single from the album was 'Can't Shake Loose', written by Russ Ballard who'd penned the previous year's Frida hit 'I Know There's Something Going On'. 'Can't Shake Loose' gave Agnetha her biggest solo success in the United States, where it reached the Top 30.
Stewarded by Stewart
The period 1982–1986 was a highly prolific period for Agnetha as a recording artist, mirrored by the slew of bonus tracks included on the 2005 CD version of Wrap Your Arms Around Me. For example, her 1982 duet with Tomas Ledin on 'Never Again' was also recorded in a Spanish version, 'Ya Nunca Más', while the songs on her 1983 hit single 'It's So Nice To Be Rich'/'P&B' – released shortly after Wrap Your Arms Around Me – were taken from the Swedish movie P&B.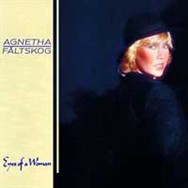 Agnetha's final album for Polar Music, Eyes Of A Woman, originally released in 1985, was also re-released with bonus tracks in 2005. Recorded in Stockholm in the autumn of 1984, with Eric Stewart of 10cc in the producer's chair, the album project is notable for producing the last two Agnetha Fältskog compositions to be made public for almost three decades. One of them, 'You're There', was not included on the album, but used for a single B-side (it is one of the bonus tracks on the Eyes Of A Woman CD). However, the second tune, 'I Won't Let You Go', was not only included on the album but was also released as the incredibly catchy first single from the project. For Agnetha, though, this artistic triumph came at a price, as she found that it had become a battle for her to write songs. "I was struggling alone with 'I Won't Let You Go' for the whole of last summer," she told a reporter. "It's only a matter of hard work, no glamour at all." The pressure she placed on herself to come up with high-quality tunes probably explains why she gave up songwriting altogether soon afterwards.
The way she is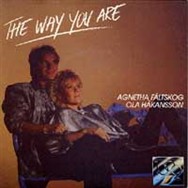 The Eyes Of A Woman album was released in March 1985, reaching number two on the Swedish album chart and achieving respectable positions on other European charts. The album contained two tracks written by Eric Stewart, and also a contribution from Justin Hayward of The Moody Blues. The second major single release from the album, 'One Way Love', had been written by Jeff Lynne of Electric Light Orchestra. However, the next time Agnetha achieved a significant single hit in her home country was in 1986, when she teamed up with singer Ola Håkansson for the duet single 'The Way You Are' / 'Fly Like The Eagle'. Both sides of this single are bonus features on the Eyes Of A Woman CD.
In 1987, Agnetha signed with Warner Music and released two more solo albums, the first of which was a children's album with her son Christian, entitled Kom följ med i vår karusell ("Come Join Us In Our Carousel"). That was followed by the international pop LP I Stand Alone, recorded in Los Angeles and produced by former Chicago member Peter Cetera, entering the Swedish charts at number one. But after that, Agnetha's motivation at remaining in the music business sank drastically. She had been a recording artist for 20 years and had barely stopped to take a stock of her life after ABBA's final recordings. As she admitted recently, "I was so tired … and just wanted to be calm and be with my children." It would be 17 years before she released another album. My Colouring Book, issued in 2004, featured a selection of covers of favourite songs, most of them from the 1960s. However, all soon went quiet again and most people, including Agnetha herself, concluded that this was probably her final album.
Back on our radios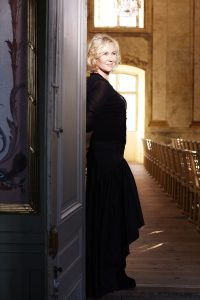 But Agnetha also likes saying that she's the kind of person that never closes any doors, and she did indeed prove true to her word when she was approached by the team of songwriter/producer Jörgen Elofsson, who'd written hits for artists such as Britney Spears, Westlife and Kelly Clarkson, and arranger/producer Peter Nordahl. Presented with a handful of songs that Elofsson and Nordahl thought might suit her and which might constitute the first step towards a new album, her reaction was instant and positive. "I just couldn't say no," she recalled. "I really loved the songs from the beginning." The team were soon ensconced in the recording studio, working out a brand new album, which even featured a newly written tune from Agnetha, 'I Keep Them On The Floor Beside My Bed' (with lyrics by Jörgen Elofsson). Released by Universal Music in May 2013, A has become Agnetha's most successful solo album, featuring in the higher regions of the charts in many countries.
Whether this success will be followed by further albums remains to be seen. But at the very least one more chapter has been written in the story of Agnetha's solo career, enabling us to yet again enjoy her voice in a context quite different from ABBA: Agnetha Fältskog on her own.