In Focus: The Folk Medley – ABBA's rare cover versions
ABBA only ever recorded and released one set of cover versions: the so-called 'Folk Medley' that graced the B-side of their 'Summer Night City' single. Here's the story of one of ABBA's most unfamiliar recordings.
In the public domain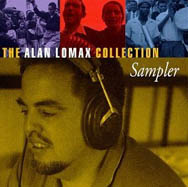 Unlike many other of the biggest artists in rock and pop history, ABBA took pride in only recording and releasing songs written by the members themselves. In the 1960s, it became more common for artists to write their own material, inspiring Björn and Benny to make their firs attempts at song writing. And by the time ABBA started, in 1972, it was almost as if the team of Andersson and Ulvaeus took it as a decree that they should only perform their own tunes. For the group's first album, Ring Ring, Agnetha and Björn wrote "Disillusion", but with that exception, Björn and Benny wrote all of ABBA's commercially released songs, sometimes with lyrical contributions from Stig Anderson. However, they deviated from that rule at one point – and for a good reason.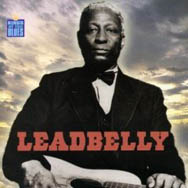 In 1975, ABBA were approached to contribute to an album entitled Stars Im Zeichen Eines Guten Sterns ("Artists In The Sign Of A Good Star"). This was a West German charity album, the proceeds of which went to the battle against cancer. The idea was that all participating artists should record medleys of folk songs that were in the public domain as far as copyright was concerned. Accordingly, no proceeds from sales of the album would "disappear" to song writing royalties. The songs ABBA chose for their contribution were American folk tunes: 'Pick A Bale Of Cotton', 'On Top Of Old Smokey' and 'Midnight Special'. Björn had of course started his career in music as a member of the Hootenanny Singers, who originally played nothing but American folk music. "They were songs that both Benny and I liked," recalled Björn of the medley, "and they were perhaps especially close to my heart, since it was the type of repertoire that we had in the Hootenanny Singers."
Leadbelly and The Weavers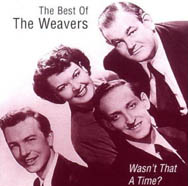 But what of the origins of the songs? How did they become known and with whom? Well, the very nature of folk songs, being passed down from generation to generation and spread from singer to singer – and often altered during that process – means that there are no clear-cut answers to those questions. 'Pick A Bale Of Cotton' seems to have become known when it was recorded in the 1930s by folklorist John A. Lomax and his son Alan, who travelled throughout the southern states of North America, recording traditional songs for their famed Folk Song Archive of the Library Of Congress. It was through their groundbreaking work that many of the songs that went on to become staples of folk singers' repertoires first became known to a wider audience. In 1935, they recorded an African American singer known as Leadbelly (real name Hudson Ledbetter). Among the many songs he performed for the Lomax team was 'Pick A Bale Of Cotton', which went on to become one of the more well-known Leadbelly songs. Although Leadbelly wrote, or claimed to have written, many songs himself, 'Pick A Bale Of Cotton' is regarded as strictly traditional. The song, of course, hails from the days when African Americans were picking cotton in the Southern states. For that reason, this song and others like it are somewhat controversial today, as some feel that their lyrics glorify the days of the slavery. However, for most singers the song is merely regarded as a work-song without any strongly negative connotations.
'On Top Of Old Smokey' (the last word of the title is often spelled "Smoky", without the "e") was a traditional folk song hailing from the Southern Highlands, the mountain area in western North Carolina, eastern Tennessee and southwest Virginia. The song, which tells a quite dramatic tale of "false hearted lovers", first gained wide-spread popularity in the United States in 1951, when a recording by folk group The Weavers reached number two on Billboard's Pop Singles chart. That same year, the song was translated into Swedish and recorded by a number of popular artists. The Swedish title was 'Högt uppe på berget' ("High Up On The Mountain"), and for those who grew up in the Fifties – which the ABBA members did – it was a well-known and popular song.
Modernized pop-rock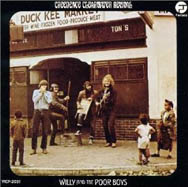 The third and final song in the medley, 'Midnight Special', was again a song from the repertoire of Leadbelly. The singer was in fact a prison inmate at the time when John and Alan Lomax met him, and the subject matter of 'Midnight Special' is a train, the sound of which could be heard in the prisoners' cells as it passed by. The train, of course, symbolizes freedom, and if the light from the train should happen to flicker through the window, landing on a prisoner, according to legend it meant that the man would soon be set free. 'Midnight Special' was recorded by artists as early as the 1920s, but it was Leadbelly's later recordings – the first of which occurred in 1934 – and his distinctive arrangement of the song that made it truly famous. It has since been recorded by hundreds of artists and was, of course, especially popular in the folk music boom of the early 1960s. 'Midnight Special' is one of the most famous songs associated with Leadbelly and is regarded as a pillar of American folk music. For pop and rock fans, perhaps the 1969 version recorded by Creedence Clearwater Revival on their Willy And The Poorboys album is the most familiar.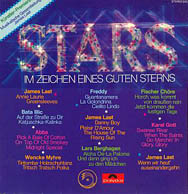 On May 6, 1975, when ABBA entered Glenstudio to record their medley of the three folk songs, only two weeks had passed since they released their third studio album, the eponymous LP that contained 'Mamma Mia' and 'SOS'. They were accompanied by drummer Roger Palm and bassist Rutger Gunnarsson, two of their most frequently used session musicians, but also by guitarist Finn Sjöberg, who only played on a handful of ABBA sessions, but who went on to tour with them in Europe and Australia in 1977. Together with these musicians, the group put down modernized, pop-rock versions of the three folk songs, with screechy synthesizers and typically high-energy lead vocals from Björn, Agnetha and Frida. Frida even had a solo spot on 'On Top Of Old Smokey'. "It was fun to do it", recalled Benny of the recording session. "We felt freer because it wasn't our own material, and I think it turned out quite well."
Dusted off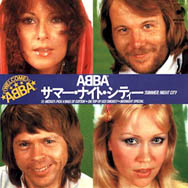 The recording of the three folk tunes was then included on the Stars Im Zeichen Eines Guten Sterns album, billed as 'Pick A Bale Of Cotton/On Top Of Old Smokey/Midnight Special'. Since this was a West Germany only release, at the time it didn't reach the ears of many ABBA fans. However, three years later, when ABBA needed a B-side for their 'Summer Night City' single, the recording was dusted off and remixed for inclusion on the single. The title of the track was also slightly amended to clarify the nature of the recording: 'Medley: Pick A Bale Of Cotton/On Top Of Old Smokey/Midnight Special'. As 'Summer Night City', released in September 1978, was a global hit single, it was heard by many more fans this time around.
But single B-sides seldom become very well-known tracks, and outside diehard fan circles the 'Folk Medley' was to remain fairly unknown. In the CD age, the recording has become easier to access, for example appearing on the 1994 box set Thank You For The Music. It is also a bonus track on the current CD version of the ABBA album. It is well worth investigating this lively recording, for a rare chance to experience ABBA's enthusiastically modern take on some of the staples of folk music – and for that very rare opportunity to hear how they take on music not written by Björn and Benny.