The Visitors Deluxe Edition Released In April!
April 23 sees the release of The Visitors Deluxe Edition. As with previous releases in the Deluxe Edition series, this version of ABBA's final album offers a DVD of archive material along with CD bonus tracks – including the demo medley 'From A Twinkling Star To A Passing Angel', the first previously unreleased ABBA recordings since 1994!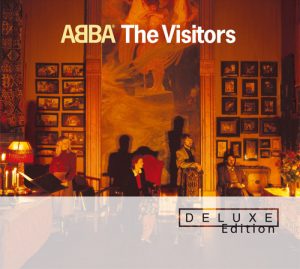 The Deluxe Edition of The Visitors, ABBA's eighth and final studio album, will be released on April 23, 2012. Originally released in 1981, the album features single hits such as 'One Of Us', 'Head Over Heels' and 'When All Is Said And Done', along with 'Slipping Through My Fingers', which is highlighted in one of the more poignant moments in the Mamma Mia! musical.
Like the previous Deluxe Editions of ABBA's albums, The Visitors will feature several bonus selections along with a DVD of rare and previously unreleased material from the archives.
For ABBA fans, the most sensational inclusion in the package will be the previously unreleased track, 'From A Twinkling Star To A Passing Angel (demos)'. This is the first time since the Thank You For The Music box set in 1994 that ABBA have opened the doors to the tape vaults to release previously unheard music from the group's heyday.
Watch this space for more information about the track list and the previously unreleased recording.
THE VISITORS – DELUXE EDITION
DISC 01: CD
1.  The Visitors
2.  Head Over Heels
3.  When All Is Said And Done
4.  Soldiers
5.  I Let The Music Speak
6.  One Of Us
7.  Two For The Price Of One
8.  Slipping Through My Fingers
9.  Like An Angel Passing Through My Room
Bonus Tracks:
10. Should I Laugh Or Cry
11. I Am The City
12. You Owe Me One
13. Cassandra
14. Under Attack
15. The Day Before You Came
Extra Bonus Track:
16. From A Twinkling Star To A Passing Angel (demos)
DISC 02: DVD:
1.    Two For The Price Of One (Dick Cavett Meets ABBA)
2.    Slipping Through My Fingers (Dick Cavett Meets ABBA)
3.    When All Is Said And Done (Original Promo Clip)
4.    ABBA In London, November 1982 (The Late Late Breakfast Show, BBC)
5.    ABBA In Stockholm, November 1982 (Nöjesmaskinen, SVT)
6.    The Visitors TV commercial I (UK)
7.    The Visitors TV commercial II (Australia)
8.    The Singles – The First Ten Years TV commercial I (UK)
9.    The Singles – The First Ten Years TV commercial II (Australia)
10.    International Sleeve Gallery