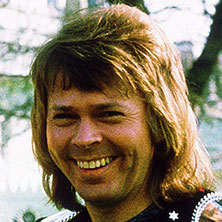 Björn Kristian Ulvaeus was born in Gothenburg on April 25, 1945. When he was six years old the family moved to the small town of Västervik, and this is where Björn grew up.

In the mid-Fifties Björn fell in love with rock'n'roll and skiffle. By the early Sixties he was a member of a folk group called the West Bay Singers. In 1963 they entered a talent contest arranged by Swedish radio. This led to discovery by songwriter and publisher Stig Anderson and his partner, Bengt Bernhag. Stig and Bengt had recently started a record company called Polar Music. The band acquired a new name, the Hootenanny Singers, and quickly became one of Sweden's most popular groups of the Sixties.
In 1966, Björn had a chance meeting with Benny Andersson, himself a member of Sweden's number one pop group, The Hep Stars. They hit it off and wrote their first song together, 'Isn't It Easy To Say'.
Björn recorded a couple of solo singles in the late Sixties, at which point he also started concentrating more on his collaboration with Benny Andersson. In 1970 the pair started releasing records as a duo and also staged a cabaret show together with their fiancées, Agnetha Fältskog and Anni-Frid Lyngstad. On July 6, 1971, Björn and Agnetha got married.
From 1972 and a decade onwards Björn was occupied by his work with ABBA. In 1983 Björn and Benny started writing the musical Chess with lyricist Tim Rice. A concept album was released in the autumn of 1984, and in May 1986 the musical opened in London's West End. In 1988 Chess received its Broadway première. A reworked version of the musical opened in Stockholm, Sweden in 2002.
Towards the end of the last century, Björn and Benny worked on a couple of pop albums together with Gemini and Josefin Nilsson.
By 1990, Björn and Benny had decided to write a new musical. This time they wanted to write exclusively in Swedish, and they chose the Emigrants novel series by author Vilhelm Moberg as basis for their work. The musical Kristina från Duvemåla (Kristina From Duvemåla) opened in October 1995. The show ran for three and a half years at various theatres in the Swedish cities of Malmö, Gothenburg and Stockholm.
Björn has involved himself heavily in the staging of 'Mamma Mia!', a musical based on ABBA songs. The show opened in London, England, in April 1999 and has since been staged virtually everywhere. It even lead to the release of two films, 'Mamma Mia! The Movie' in 2008 and, ten years later, 'Mamma Mia! Here We Go Again'. For the sequel, Björn rewrote the lyrics to two lesser-known ABBA songs.
In 2016, another project by Björn started to conquer the world. 'Mamma Mia! The Party' is a dinner show with ABBA songs, also set in Greece but with a different story. All four ABBA members appeared on stage at the opening night in Stockholm.
Over the years, Björn has contributed lyrics to Benny compositions, for example for Sweden's Crown Princess Victoria's wedding ('Vilar Glad. I Din Famn') and for the 'Eurovision Song Contest' in 2013, when they worked together with Avicii ('We Write The Story'). Björn has also written many lyrics for Benny Anderssons Orkester that has been immensely successful in Sweden with five #1 hit singles.
In 2013, Björn worked together with Benny, Kristina Lugn and Lars Rudolfsson on the musical play 'Hjälp Sökes'. His current project is the musical 'Pippi På Cirkus' that premieres in Stockholm in 2021.   
In 2010, Björn wrote the children's book 'The Little White Piano' and, in 2018, he wrote another book, 'You Are Who You Meet', which is available exclusively at his recently built hotel Slottsholmen in Västervik.
Björn is involved in a number of business projects. He also became president of the International Confederation of Societies of Authors and Composers, CISAC. Since 2016, he has been involved in developing a software and system that ensures songwriters and musicians receive the royalty payments they are due.
Björn is the co-owner of Pop House which includes the Cirkus Theater, Hasselbacken hotel, Pop House hotel and ABBA The Museum. The award winning museum opened in 2013 and is home to a permanent ABBA exhibition that tells the story of the group and its members from the pre-ABBA days to the present day. The museum also displays memorabilia such as stage outfits, instruments, gold records and awards as well as many interactive features.