In Focus: Polar Music – the story of ABBA's record label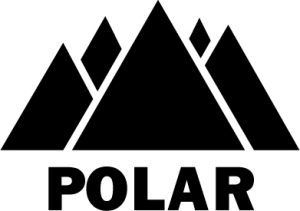 In the 21st Century, Polar Music is mainly regarded as ABBA's record label. But the record company has a long history, stretching back a decade before the group conquered the world – and with a strong ABBA connection from the start.
Under one umbrella
Back in the early 1960s, future ABBA manager Stig Anderson was a songwriter and music publisher on the rise. He had more or less stopped writing tunes but was gaining success through purchasing the Swedish copyrights for foreign songs and writing Swedish lyrics for them; these songs would then, hopefully, be recorded by an artist who could turn them into major hits. Stig had noticed that sales of records were on an upwards streak and figured that it would be even better if some of his songs were recorded by artists on his own record label, keeping as much as possible under his own umbrella. "I understood then that records were the future," Stig would recall.
Together with his long-time friend Bengt Bernhag, Stig began hatching plans to launch a record company. Bengt was the perfect partner: an expert record producer, with good instincts on what made a hit or not. The pair had already collaborated on some major Swedish hits – Stig as songwriter and/or lyricist, Bengt as producer – so it was a natural step for them to go into business together. By the summer of 1963, Anderson and Bernhag were ready to kick off operations, naming the label Polar Music.
There was a strong ABBA connection even with their first signing. On 13 September 1963, Bengt Bernhag was reading the Swedish newspaper Expressen and happened to notice a small article about a talent contest. Singled out as "a top act" in the article was a "boy quartet … fronted by Björn Ulvaeus", calling themselves the West Bay Singers. Bengt had a hunch that this folk music group – heavily inspired by one of the biggest American acts of the early 1960s, The Kingston Trio – could be something for Polar Music. He wasted no time in contacting the group, requesting that they send a demo tape. After hearing the tape, he was even more enthusiastic and soon afterwards Stig Anderson drove to Västervik, the Swedish town where group resided, to have a meeting with them.
Fresh blood
Before long, future ABBA member Björn Ulvaeus and the three other members of the West Bay Singers were signed to the label. There was a crux, however: Stig and Bengt didn't like the group name. Since "hootenanny" was a term used on the American folk music scene (signifying a folk music party, where everyone present is welcome to perform) they decided that the band should henceforth be known as the Hootenanny Singers – a somewhat quaint name that Björn Ulvaeus would later label "the worst name that any band has ever had".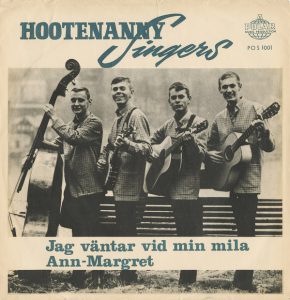 Bad name or not, the Hootenanny Singers released their first single, 'Jag väntar vid min mila' ("I'm Waiting At The Stack") in November 1963. This modern folk music arrangement of an old Swedish song was an immediate hit, and from then on and for the following decade the group was one of the biggest acts in Sweden. It was here that the bond between Polar Music and Björn Ulvaeus was forged, the first step towards ABBA.
Like most record companies, Polar's output throughout the 1960s was a mix of hits and misses, with the Hootenanny Singers as their outstanding star act. By the end of the decade, however, the company received a welcome injection of fresh blood, as Björn introduced his friend and new songwriting partner, Benny Andersson, to Stig and Bengt. Before long the four of them had formed the publishing company Union Songs, specifically to handle Benny and Björn's songwriting. Stig often wrote the Swedish lyrics to their tunes and over the following years the Andersson/Ulvaeus team notched up a number of domestic hits, most of them released by Polar.
Tragedy and success
But just as the record company seemed on the verge of an ever more brilliant future, tragedy struck. Bengt Bernhag had been plagued by ill health for several years and in July 1971 he passed away. Bengt had handled all productions for Polar Music, so a new house producer was needed and quickly. Björn had long been groomed to come into the company, and now Stig turned to him and asked if he wanted to take the job. Björn, whose partnership with Benny trumped most other considerations, insisted that Benny should be hired along with him. When Stig explained that he could only afford one producer, Björn suggested that he and Benny should split the salary. "It was a damned generous gesture on Björn's part," recalled Benny. The pair started their employment as Polar Music house producers effective immediately.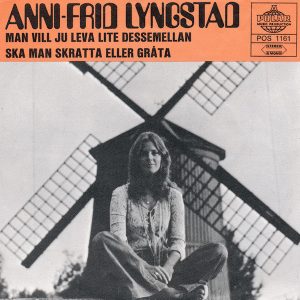 In the first few years of 1970s, the company moved into its most successful phase. Teenage singers Lena Andersson and Ted Gärdestad were signed to the label, along with Svenne & Lotta, a husband and wife duo, both of whom had been members of Benny's 1960s band The Hep Stars. These new acts would all enjoy great success in Sweden and some of the other Nordic countries, an extraordinary result for what was an independent, comparatively small record company. Among the other new signings during this period was Anni-Frid "Frida" Lyngstad, Benny's fiancée, whose first Polar Music single, 'Man vill ju leva lite dessemellan' ("You've Got To Live A Little Every Now And Then"), went to number one on the vote-based radio chart Svensktoppen ("The Swedish Top Ten"). Meanwhile, Björn and Benny had their hands full as producers, gaining important experience as they produced everything the label required: children's records, big band jazz, odd experiments with accordion and synthesizer, religious works and straightforward pop.
They also had their own duo, Björn & Benny, who scored a number of hits between 1970 and 1972. But they would achieve even greater triumphs when they expanded their duo to a quartet, inviting Björn's wife, Agnetha Fältskog, and Frida to record a single with them: 'People Need Love'. Before long the group had become the biggest recording act in Sweden, and, following their Eurovision Song Contest international breakthrough with 'Waterloo' in 1974 and a name-change to ABBA, they would be a global popular music force for the remainder of the decade. ABBA's success meant that Björn and Benny had to step back as Polar Music house producers, and many of their assignments were taken over by names such as ABBA engineer Michael B. Tretow; Claes af Geijerstam, who handled the sound on the group's tours; and ABBA bassist Rutger Gunnarsson.
Part owners
With Björn & Benny's importance for Polar Music, it was a natural step for them to become part owners of the company. From April 1975, Björn and Benny owned 50 per cent of Polar Music, with Stig controlling the other half of the company. Eventually, Agnetha and Frida acquired equal shares of Björn and Benny's half, so that each of the four members owned 12.5 per cent of Polar. Furthermore, because of ABBA's enormous record sales, the company was restructured to take care of the money that flowed in. Renamed Polar Music International, it diversified into all sorts of businesses, some of which had little to do with music, but also including the top notch Polar Music Studio, which opened for business in May 1978; this is where ABBA would do all of their remaining studio recordings. With Polar Music International's extraordinary success, a myth emerged, claiming that Polar had become more profitable than Swedish car manufacturer Volvo. It was true that in percentage terms, Polar's profits on its so-called working capital was larger than Volvo's, but measured in dollars and cents, Volvo was always much bigger.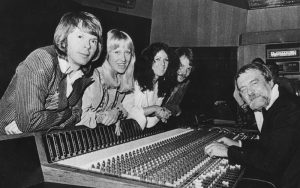 The year of 1982 saw the end of ABBA's recording career, and Polar Music International had to evolve as a result, signing new artists who could fill the gap. The concept album of the musical Chess, written by Björn and Benny in collaboration with Tim Rice, was released by Polar, and Agnetha and Frida issued their first few solo albums on the label. But by the end of 1984, the four ABBA members had all moved on in their lives and sold their shares in the record company. Five years later, in 1989, Stig, who'd worked around the clock for his entire life, decided that it was time to divest himself of his companies, including Polar. The sale went into effect in 1990 and today Polar Music International is owned by Universal Music.
Although Polar hasn't signed any new artists for many years, the label is still highly successful as the guardian of the ABBA catalogue, which attracts new listeners every year. Its music is played, heard and enjoyed around the clock, all over the world. Not a bad result for a tiny label that started out with a group of Swedish folk musicians in the early 1960s.