In Focus: People Need Love – The First ABBA Song
Waterloo was ABBA's first single, right? Yes – and no. Join us as we explore the story behind People Need Love, the very first single released by the group that later reached worldwide fame under the name ABBA.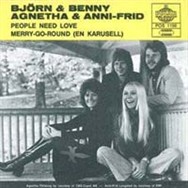 Party People Failure
In this day and age, when pop stars with little previous stage experience achieve instant number one hits through participation in television shows such as Pop Idol and American Idol, it is sobering to be reminded how long it actually took before ABBA achieved worldwide success. Although many in the 1970s regarded the four Swedes as a "manufactured" band, very much along the lines of the groomed, styled and choreographed overnight sensations of the 21st Century, nothing could be further from the truth. Not only had the individual members spent a decade performing, touring and recording in earlier groups or as solo artists before they grabbed the world's attention with 'Waterloo' in April 1974, by that time ABBA themselves had already been making pop music together for two years – and four years had passed since they first attempted a collaboration. Confused? Read on.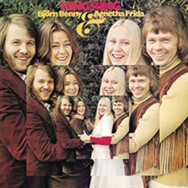 The early 1970s was a somewhat insecure period for Björn, Benny, Agnetha and Frida. Benny had left his previous group, The Hep Stars, and although Björn was still making records with his group, the Hootenanny Singers, he knew he couldn't count on them for any future career advancement. Furthermore, Björn and Benny wanted to focus their attention on their partnership in songwriting and record producing, and perhaps not be performers so much anymore. Still, they had bills to pay, so they could not afford to turn down the work opportunities that came their way, whether on or off stage. For their part, Agnetha and Frida were devoting themselves to their own careers, with varied success.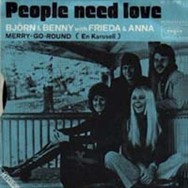 In late 1969 and early 1970 Björn and Benny had been doing a cabaret show together with singers Svenne and Lotta, former members of The Hep Stars. This venture was fairly successful. With Björn being engaged to Agnetha, and Benny to Frida, the next step seemed fairly obvious: why not attempt a cabaret show as two couples? In November 1970, the show Festfolk (a pun on the double meaning of "party people" and "engaged couples") opened in Gothenburg. But the show was not a hit. "There were just a few scattered couples at the tables in an otherwise empty venue," recalled Agnetha of the première. And Björn has called Festfolk "the absolute low point of the careers of everyone involved". The idea of working together as a group was put on ice for the moment being.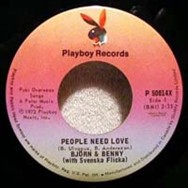 Blue Mink Inspiration
An alternate sleeve for the Swedish release of People Need Love.
It wasn't until the spring of 1972 that the magic combination of the foursome's talents was finally applied to a concept that was both stimulating and rewarding for them all. By this time, Björn and Benny were working as producers at Stig Anderson's record company, Polar Music. They were also releasing records as the duo Björn and Benny. One of their songs, 'She's My Kind Of Girl', had flopped in Sweden upon release in 1970, but now it suddenly and unexpectedly became a smash hit in Japan. Encouraged by this success they started working towards straightforward pop music again. Although this was the kind of music they preferred, it was an area which they had largely abandoned for the past two years or so, simply because the Swedish audience seemed to prefer their easy listening material.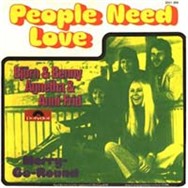 The starting point for the group we know as ABBA was a recording session that took place in Stockholm's Metronome Studio on March 29, 1972. Björn and Benny had written a tune entitled 'People Need Love', their first English-language pop song in two years. It was a creation very much in the vein of the lighter side of the pop music of the times. The concept for the recording was largely inspired by UK-based group Blue Mink. On most of their records, lead singers Roger Cook and Madeline Bell traded vocal lines in songs that were optimistic pleas for harmony between people. Björn and Benny now applied the very same idea to their new composition. The title of the song, 'People Need Love', pretty much summed up the message of the lyrics, and the songwriters invited their fiancées to contribute their vocal talents to this call-and-answer style song. The result was a bright and sunny tune, a transitionary record between the so-called "schlager" music they were all doing as separate acts, and the pop music that was to be their future. Björn and Benny felt that it was the best thing they had ever done.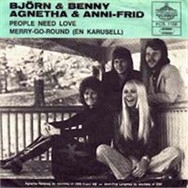 When 'People Need Love' was released as a single it was credited to "Björn and Benny, Agnetha and Anni-Frid", for the name ABBA had yet to be invented. Indeed, as yet there was no talk of starting a permanent group. Agnetha and Frida were still involved in solo careers and had contracts with other record companies, plus they were all unsure about their future direction. But they got some help in their indecision when 'People Need Love' became a significant hit in Sweden. In August, the song reached number 17 on the combined singles and albums chart used in Sweden at the time, having already hit number three on the popular and influential radio chart Tio i topp ("The Top Ten") the previous month. "We were surprised and insanely happy when it entered Tio i topp," recalled Frida. At the very least, the four friends decided, they should go on making records together. Whether that would lead to something permanent, however, remained to be seen. In the autumn of 1972 work was started on what was to become their first album, Ring Ring, and they also released a second group single, 'He Is Your Brother'.
Agnetha and Frida as "Svenska Flicka"
Although 'People Need Love' was released in a few other countries, it never became a hit outside Scandinavia. In America the song was issued by Playboy Records, who, quite possibly in an effort to play on the myth of Swedish sin and "available blonde girls", credited the record to "Björn and Benny (with Svenska Flicka "Swedish Girl")". The song got no further than number 114 on the Cash Box chart – but although this wasn't very impressive, it was still more success than most Swedish acts had in the US at the time.
Björn and Benny, Agnetha and Anni-Frid promoted 'People Need Love' a couple of times on Swedish television, and when the single was released in West Germany, they were invited to appear on the television show Disco in January 1973. However, at the time Agnetha was in the advanced stages of pregnancy with her and Björn's daughter, Linda, and chose to stay home. Instead, a friend of Frida's, Inger Brundin, was called in to pose as "Agnetha". In those day, few people in West Germany had any idea how the group members were supposed to look anyway, but latter-day repeats of their performance have baffled many viewers.
In the recording studio there was no talk of calling in any replacements, however, and later in 1973 – after the group had scored a big hit with 'Ring Ring' – they decided to make their collaboration permanent after all. Meanwhile, their manager, Stig Anderson, simplified their group name by taking the initials of their individual first names and coming up with the self-evident ABBA. Next up was 'Waterloo' and worldwide fame – but 'People Need Love' was where it all started.