In Focus: Sending Out An SOS
June 2005 marked the 30th anniversary of the release of ABBA's 'SOS' as a single. Join us for this peek into the creation and the success of the song that marked a turning point in the group's history.

Turn it on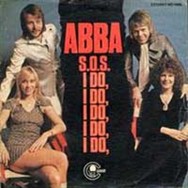 When Agnetha, Björn, Benny and Frida entered Glenstudio, located in the Stockholm suburb of Stocksund, in August 1974 to start recording their third album, their prospects for continued international success looked if not exactly bleak, at least a little uncertain. Only four months had passed since their triumph with 'Waterloo' in the Eurovision Song Contest, and ABBA's success in their home country of Sweden and the rest of northern Europe was steady and continuing on its upward journey. But in Great Britain – the most important country for modern pop music as far as the group was concerned – their fortunes had taken a dramatic fall after 'Waterloo' hit number one. This worried the group a little, although they never truly lost faith in their ability to create good pop music. And the song that would eventually turn their fortunes around in Great Britain was actually among the first batch of tunes to be recorded during those initial album sessions.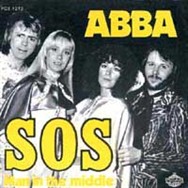 On August 22 and 23, ABBA recorded the backing tracks for three brand new songs: 'So Long', 'Man In The Middle' and 'SOS'. 'So Long' was destined to become the first single to be released from the sessions, towards the end of the year, while 'Man In The Middle' was used simply as an album track and single B-side. At the time of this first session, 'SOS' had not gained its final title, but only had the working title 'Turn Me On'. The personnel playing on the track were Benny Andersson on keyboards and Björn Ulvaeus on guitar, along with session musicians who graced many ABBA recordings: Janne Schaffer on guitar, Mike Watson on bass and Ola Brunkert on drums. Together, they laid down a solid backing track for the new song.
Just the right title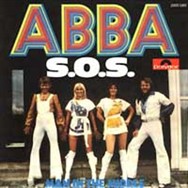 The final title of the song, 'SOS', was dreamed up by ABBA manager Stig Anderson, an experienced lyricist with an exceptional knack for coming up with just the right title: an art-form that is often the result of a much more complicated process than the seemingly simple and self-evident titles would suggest. His first draft of English-language lyrics for the song, however, was almost completely re-written by Björn.
In hindsight, it seems self-evident that 'SOS' was a surefire hit, but from ABBA's perspective – and that of the record companies that licensed their recordings all over the world – apparently this wasn't so obvious. Instead of choosing this catchy track as their new single, due to be released in November 1974, the group were advised to go along with 'So Long' instead. Although this recording certainly had its exciting moments, it seems the main reason for choosing it was that it sounded more like 'Waterloo' than any other of the current recordings. Thus, it was reasoned, 'So Long' would remind record buyers that "this is the group that brought you 'Waterloo'!", and so it would stand a greater chance of becoming a hit.
This turned out to be not such a good move. Instead, 'So Long' bears the dubious honour of being ABBA's worst-performing single in international chart terms until their very last few singles, released eight years later. One reason why the hit potential of 'SOS' may not have been apparent to the group during the autumn sessions was that the recording may not have been one hundred per cent completed at the time. Although the exact order of recording is not known, according to ABBA's usual way of operating it is likely that the initial backing track session was followed by the overdub of the vocals, featuring Agnetha on solo lead in the verses.
Guitar and synthesizer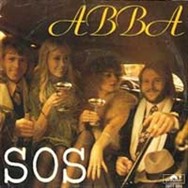 Only after those fundamental parts of the construction were in place would Björn, Benny and sound engineer Michael B. Tretow go on to flesh out the soundscape of the recordings with various overdubs. In the case of 'SOS', the recording was in fact viewed as virtually completed when Benny and Björn came up with all the guitar and synthesizer riffs that kick off the recording and which form such a vital part of its sound. For all we know, this process may even have happened long after the release of 'So Long'; it wouldn't have been the first nor the last time that ABBA returned to a recording months after its presumed completion. But one thing is probably for certain: it would only have been after this additional work had been performed on the track that the full power of the song became clearly evident to the group.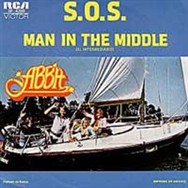 By March 1975, the sessions for the new album – simply entitled ABBA – were drawing to a close, and with all recordings mixed and completed there were four tracks that crystallised themselves as having an exceptionally strong potential: 'Mamma Mia', 'I Do, I Do, I Do, I Do, I Do', 'Bang-A-Boomerang' and 'SOS'. Thus, the production of promo clips for those songs were commissioned from director Lasse Hallström and filmed in April 1975. But when the choice for second single from the album was made, 'SOS' was again passed over, this time in favour of 'I Do, I Do, I Do, I Do, I Do'. Although this single did much better than 'So Long' in international terms, its slightly anachronistic 1950s sound wasn't quite enough to restore the group's fortunes in the UK, where it stalled at number 38.

Pete's favourite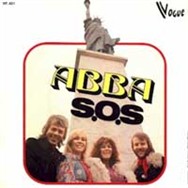 Then, finally, 'SOS' was released as the third single from the album. In Scandinavia, it hit record shops in June but it wasn't until September that British consumers were able to lay their hands on it. As it turned out, this was the ABBA song the UK had been waiting for. The descending chords and ominous synthesizer melody line of the introduction set the tone for Agnetha's frail vocals, sounding as if it was only through sheer will-power that she was able to stop herself from breaking down in tears. Just those first 20 seconds of the song constituted irrefutable proof that ABBA were no longer to be regarded as a Eurovision one-hit wonder: the four Swedes had mastered the art of creating pure pop, and, moreover, they were doing it on their own terms, within a soundscape that was all their own.
'SOS' reached number six on the UK singles chart, kicking off a string of 18 consecutive Top Ten hits in that country. As Björn later noted, "The strongest memory I have of 'SOS' is that it was the song that brought us back in England." The song's success was no less convincing in other parts of the world. In Australia, it was part of the string of hits that kick-started the Abbamania phenomenon, spending four weeks at number two while 'Mamma Mia' was at number one, before finally reaching the top of the chart. 'SOS' also hit number one in Belgium, Mexico, New Zealand and South Africa, as well as reaching the Top Five in plenty of other countries.
Today, 37 years after it was first released on vinyl, 'SOS' remains as one of ABBA's most-admired recordings. It was the first single to make full use of each and everyone of ABBA's formidable strengths – the mix of sadness and joy, the captivating sounds of the group's female vocalists, the classical keyboard flourishes, the multi-layered soundscape. Some even argue that it's more than just a triumph within ABBA's body of work, claiming that 'SOS' deserves a place among the all-time classics in the history of pop music. This, at least, would be the opinion of discerning fans such as Pete Townshend, one of rock music's most celebrated songwriters. Townshend once made Björn very happy when he approached him and declared that "'SOS' is the best pop song ever written!" And here at ABBA – The Site we are certainly more than happy to let Pete's verdict stand unchallenged.