In Focus: The Making of The Visitors
On November 30, 1981, ABBA's final studio LP, The Visitors, was released in Sweden. The album was the sound of a group coming to terms with their marital splits and the prospect of life after ABBA. In this feature we take a look at the making of the group's most controversial piece of work.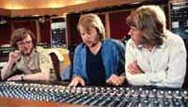 Exploring Their Private Lives
On March 16, 1981, Björn, Benny and their four trusted backing musicians – Lasse Wellander, guitar, Rutger Gunnarsson, bass, Ola Brunkert, drums and Åke Sundqvist, percussion -– entered Polar Music Studios together with engineer Michael B. Tretow to start work on the first batch of backing tracks for ABBA's eighth studio album. Only five months had elapsed since they completed work on their previous LP, Super Trouper, but ABBA was no longer the same group. Just four weeks before these initial recording sessions, Benny and Frida had announced their decision to go their separate ways, just like Agnetha and Björn had done in 1979. Thus, the group that had once consisted of two couples was now made up of four colleagues, sharing a sense of respect for the professional capacities of each member, but not socialising very much outside the recording studio.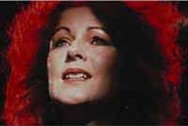 Although ABBA often wanted to avoid making their private feelings public in their music, at least in an overtly literal way, the past few years had seen a change in attitude in that respect. Two of the songs recorded during the initial sessions for the new album were certainly coloured by recent events within the group. 'When All Is Said And Done' dealt expressly with the split between Benny and Frida, exploring the inevitability of their separation. Frida handled the lead vocals, and Björn, who wrote the lyrics, made sure that she felt okay with the subject matter. Frida assured him that she was only eager to get this chance to express her true feelings. "All my sadness was captured in that song," she later recalled.
But Björn didn't stop at exploring the feelings of his fellow band members at this time, he also did some private soul-searching. The lyrics for 'Slipping Through My Fingers', also recorded during the first sessions for the new album, pondered the conflicting feelings of parenthood. The direct inspiration was seeing his seven-year-old daughter Linda walk off to school one day. "I thought, 'Now she has taken that step, she's going away – what have I missed out on through all these years?'" No doubt, his feelings acquired another level of depth, considering the fact that Linda and her younger brother Christian no longer were living under one roof with both their parents. The lead vocalist on the song was, of course, Linda's mother, Agnetha.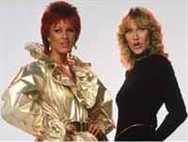 Shades Of Darkness
Kicking off the sessions with feelings of sorrow and regret certainly put its mark on much of the album. There were exceptions: the bizarre story of a man answering an ad in the personal column, placed by a girl and her mother, as depicted in 'Two For The Price Of One', performed by Björn himself, was one. The other was 'Head Over Heels', the story of a high-society lady dragging her exhausted husband to parties and in and out of boutiques, sung by Agnetha. Although it was eventually issued as a single, it was one of ABBA's least successful seven-inch releases since their breakthrough, perhaps proving that the group were now only truly convincing when they explored darker territories.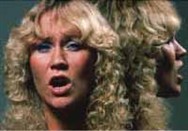 The album sleeve was photographed at the studio of artist Julius Kronberg. The first single off the album was the Agnetha-led 'One Of Us' – ABBA's final major worldwide hit – which dealt with a woman wishing that she could patch up a dead relationship, a divorce story that paralleled 'When All Is Said And Done'. Elsewhere on the album, darker subjects such as cold-war era threats of world destruction were explored in Agnetha's 'Soldiers', while the Frida-sung title track, 'The Visitors', dealt with the fate of dissidents in the Soviet Union of the time. The closing selection, 'Like An Angel Passing Through My Room', was a woman's solitary musings, featuring only Frida's voice accompanied by a very bare synthesizer arrangement. Bleak, indeed.
Believing In Angels
Sessions concluded with a mixing session for 'Soldiers' on November 14, but by then the concept for the album had already been created. As usual, ABBA's trusted sleeve designer, Rune Söderqvist, was the man behind the artwork. After giving the matter some thought, Rune came up with an "angel" concept. The "visitors" of the album title might very well be angels, he thought, and besides, the album included a track entitled 'Like An Angel Passing Through My Room'. The next step was to develop that concept into an idea for the album cover. "I knew that the painter Julius Kronberg had painted a lot of angels in his time," Rune recalled, "so I located his studio – at the Skansen park [in Stockholm] – which contained several of his paintings."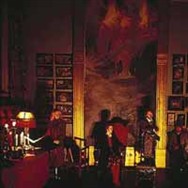 Together with photographer Lasse Larsson – who also shot the Super Trouper album cover –Rune Söderqvist assembled the group in the cold, unheated studio, and arranged a picture of them with a giant painting of an angel as backdrop. For the first time on an album cover, the members were depicted as separate individuals rather than a close-knit group. The physically chilly environment and the general sense of fatigue at being ABBA no doubt contributed to the mood at the photo session. "We might not go on working with this forever," Björn remarked at the time. "We've emptied ourselves of everything we've got to give." Indeed, the following year the group released only two further singles of newly recorded music before going their separate ways.
For Björn and Benny it was no longer creatively challenging to go on working within the ABBA concept. One track on The Visitors underlined their ambitions for the future: 'I Let The Music Speak', with vocals by Frida, was structured very much like a theatrical number. Björn and Benny had long been thinking about writing a full-length musical, and during 1981 those thoughts were closer to being realised than ever before. The Visitors was released on November 30, 1981 and just two weeks later, Andersson and Ulvaeus had a meeting in Stockholm with lyricist Tim Rice – famous for his work with Andrew Lloyd Webber – discussing a potential collaboration. These initial talks eventually resulted in the musical Chess. "If ABBA hadn't recorded 'I Let The Music Speak', I guess we would have used it in Chess," Björn reflected later.
Today, many people seem to remember ABBA mostly for happy, uptempo songs like 'Waterloo', 'Dancing Queen' or 'Take A Chance On Me', connecting it all with colorful 1970s fashion and hairstyles. But anyone who takes a listen to The Visitors – or, indeed, previous hits like 'SOS', 'Knowing Me, Knowing You' and 'The Winner Takes It All' – will find that beyond the superficial image, there are darker shades to much of ABBA's output. Frida probably summed it up best when she reflected on The Visitors: "When you've gone through a separation, like all of us had done at the time, it puts a certain mood on the work. Something disappeared that was so fundamental for the joy in our songs, that had always been there before. … Perhaps there was a bit of sadness or bitterness that coloured the making of that album."