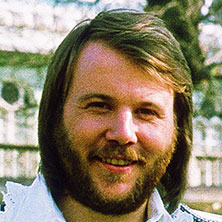 Göran Bror Benny Andersson was born December 16, 1946 in Stockholm, and spent much of his youth in the suburb of Vällingby. Music entered Benny's life when he was very young. At the age of six he got his first accordion and started playing together with his father Gösta and his grandfather Efraim.
Benny started out in the band of singer Christina Grönvall, who later became his girlfriend and mother of his first two children. From there, he moved on to the group Elverkets Spelmanslag.
In October 1964, he joined the Hep Stars as keyboardist, and they became one the most successful Swedish 1960s bands, the 'Swedish Beatles' with a huge fan base. Benny began to write his own songs, the first of which was 'No Response', followed by his first big hit, 'Sunny Girl', that attracted attention outside of Sweden as well.
While on the road, Benny met Björn in June 1966, and they started to write music together. Their first song, 'Isn't It Easy To Say', was recorded by the Hep Stars, their friendship and desire to collaborate grew, and they formed their own publishing company, Union Songs, together with Stig Anderson.
In 1969, Benny met Anni-Frid Lyngstad and when he and Björn recorded their first album 'Lycka' in 1970, they asked their girlfriends to provide the backing vocals. 'Hej Gamle Man' became the very first track that featured all future members of ABBA.
In 1971, Björn convinced Stig to hire both him and Benny as staff producers for Polar Music, and they were on their way to the eventual formation of ABBA.
In 1983, Benny and Björn felt like doing something different. In collaboration with Tim Rice, 'CHESS' was born. The musical included a number of songs such as 'I Know Him So Well' and 'One Night In Bangkok' that became hits. 'CHESS' opened in London in 1986 and is still performed regularly all over the world. A slightly different production of the musical called 'CHESS På Svenska' premiered in Stockholm in 2002.
In 1985, Benny and Björn produced and mostly wrote an album for Gemini (Anders and Karin Glenmark). One of the songs was 'Just Like That', initially recorded by ABBA but never released. A second album, 'Geminism' was released in 1987, containing the title song of the film 'Mio min Mio'.
In 1987, Benny released his first solo album, 'Klinga mina klockor', featuring his original Swedish folk compositions and his accordion in collaboration with folk group Orsa Spelmän. The title track was an epic 11-minute orchestral suite culminating in a chorus (featuring lyrics by Björn) sung by an all-star Swedish female choir that included Frida. Two years later, a second solo album called 'November 1989' was released.
In 1993, Benny and Björn returned to pop territory, producing and writing songs for Josefin Nilsson's English language album 'Shapes'.
Benny and Björn's most ambitious project to date has been the musical 'Kristina från Duvemåla' which opened in Malmö in October 1995. Based on the 'Utvandrarna' series written by Vilhelm Moberg about Swedish emigrants to the United States in the 1850s. There have been several further productions in Sweden and Finland. An English concert version was put on stage at New York's Carnegie Hall in 2009 (released on CD) and London's Royal Albert Hall in 2010.
Benny and Björn were actively involved in the production of the musical 'Mamma Mia!', based on ABBA's music with a story by Catherine Johnson and produced by Judy Craymer. The smash hit musical opened on April 6, 1999, in London, broke box office records and is the 5th longest-running musical in London's West End. Translated into many languages, 'Mamma Mia!' productions opened (and are still opening) all over the world.
In 2008, a film version, 'Mamma Mia! The Movie', was released, starring many big names such as Meryl Streep and Pierce Brosnan. It became a blockbuster around the world and was particularly successful in the UK where it was the No.1 film of 2008. Ten years later, the actors reunited to create 'Mamma Mia! Here We Go Again' which became the most successful live musical film sequel of all time.
Benny's most long-standing commitment since ABBA has been his band Benny Anderssons Orkester, or BAO as they are called, consisting of fourteen musicians including the members of Orsa Spelmän plus vocalists Helen Sjöholm and Tommy Körberg. The music is mostly composed by Benny, with many lyrics by Björn. They released their first album in 2001 with several to follow, and have had immense success in Sweden with No. 1 hit singles and (mostly) open air tours. They also performed in Glasgow in 2001, in Minneapolis for the American Swedish Institute in 2006 and in London in 2009.
Benny has composed and produced many great pieces of music. Among them are songs for television productions and films like 'Sånger från andra våningen' (2001), 'Palme' (2012) and 'Cirkeln' (2014). He has worked with artists such as Ainbusk Singers, Niklas Strömstedt, Görel Crona, Anne-Sofie von Otter, Per Myrberg, Frida Hyvönen and Gustaf Sjökvists Kammarkör. He has also written music for special occasions like the 1990 World Equestrian Games ('Upp Till Kamp'), the UEFA Euro 1992 (television intro), the wedding of Sweden's Crown Princess Victoria in 2010 ('Vilar glad. I din famn') and when the 'Eurovision Song Contest' returned to Sweden in 2013 ('We Write The Story' – with Björn and Swedish DJ Avicii).
In 2013, Benny and Björn worked together with Kristina Lugn and Lars Rudolfsson on the musical 'Hjälp sökes'. A full soundtrack was released on CD.
In 2017, Benny recorded the highly successful solo album 'Piano'. It was released by Deutsche Grammophon and featured classical – piano only – versions of songs he had written for ABBA, the musicals and other occasions.
Benny's work has been acknowledged many times. In 2007, he was elected into the Royal Swedish Academy of Music,  Stockholm University awarded him an Honorary Doctorate in 2008 and, in 2018, he received the Opus Klassik Award for his 'Piano' album.